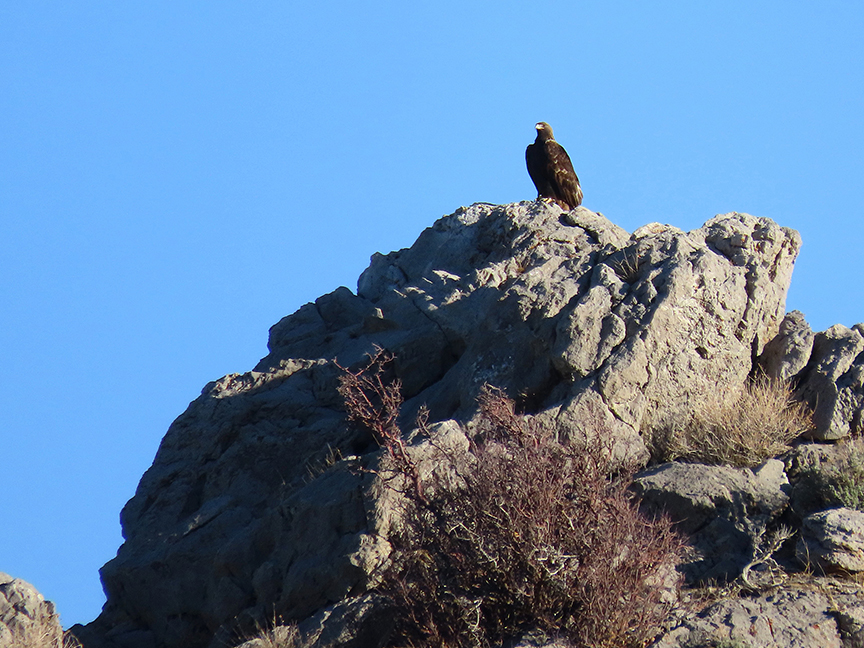 Decided to hike with Captain Jack earlier this morning, to compare with yesterday (a similar morning). Was much quieter than yesterday to start—but then things got interesting in a hurry.
First I watched an eagle fly above us, headed for a ridge to the north. I watched it touch down on a rock and begin to preen. Then I heard the solitaire again. And then a flock of what I'm pretty sure were redpolls—but I couldn't tell for sure from their calls. Then we came upon a random Mourning Dove (first in a good while). Finally, on our return, I spied a secretive bird with an eye ring: a Hermit Thrush. Did not expect one of those at this time of year.
Searched for the old Garmin I dropped on the trail yesterday. Found it right on the trail. (Not sure how I missed it yesterday.) And as we headed back down to the switchback, the eagle was still there.
Grandeur Peak Area List
At 09:04 MST, I hiked a few hundred feet up a mountain.
1. Woodhouse's Scrub-jay
2. Rock Pigeon*
3. House Finch** (v)
4. Black-billed Magpie** (v)
5. American Goldfinch (v)
6. Golden Eagle
7. Northern Flicker** (v)
8. Black-capped Chickadee
9. Townsend's Solitaire (v)
10. Mourning Dove
11. Dark-eyed Junco
12. Hermit Thrush
Elsewhere
13. House Sparrow (v)
Mammals
Mountain Cottontail
Mule Deer
(v) Voice only
*Also elsewhere
**Voice only elsewhere