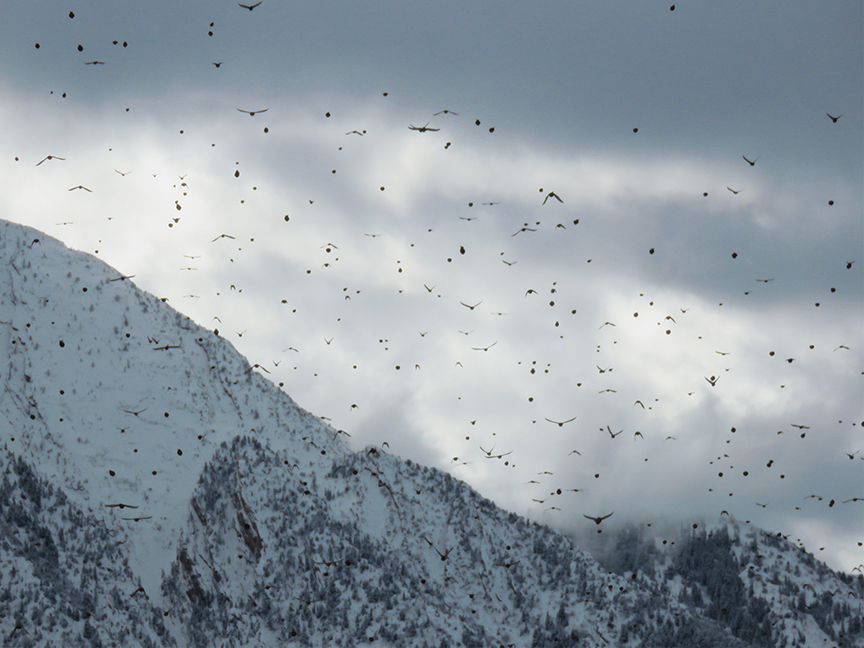 Snowed a few inches this morning, so dog and I waited until it stopped to head up into the freshly blanketed mountainside.
Several of the usual species. Many mule deer. And, near the end of our hike, a huge flock of Pine Siskins flew over. Man there were a lot of birds up there. I think there were actually two large flocks that merged as they passed overhead.
(In town, I happened to spy a Golden Eagle circling high above a busy supermarket. That was a first.)
Grandeur Peak Area List
Beginning at 11 a.m., I hiked a few hundred feet up the mountain.
1. Black-capped Chickadee**
2. Black-billed Magpie*
3. Woodhouse's Scrub-jay** (v)
4. House Finch** (v)
5. Northern Flicker** (v)
6. Lesser Goldfinch** (v)
7. Pine Siskin
Elsewhere
8. Rock Pigeon
9. American Robin
10. Eurasian Collared Dove
11. European Starling
12. House Sparrow (v)
13. California Gull
14. Golden Eagle
(v) Voice only
*Also elsewhere
**Voice only elsewhere