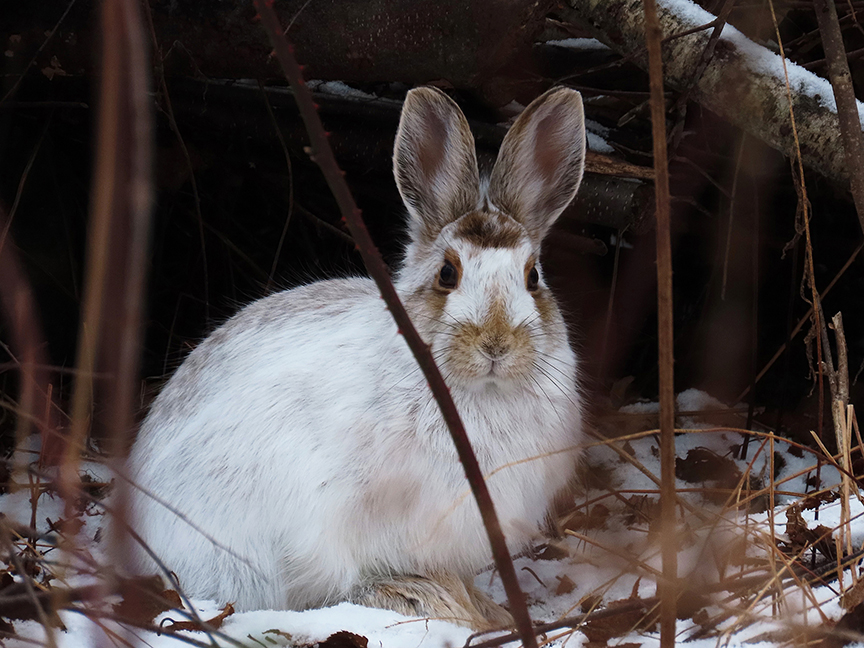 A glorious morning with a mostly overcast sky, clouds coming and going, not too chilly, fairly calm, few bird species—bluebirds, tits, a flicker—but a noteworthy sighting nonetheless: a Snowshoe Hare in winter garb.
I saw a couple-three hares last spring when first dog and I began again to hike Beech Hill—not too shy, either—but they were wearing brown coats. There's just something about the white fur of a critter with "snow" in its name. In fact, I saw it up ahead, crossing the trail, and thought it'd probably high-tailed it into the woods. But in a glance that way I happened to spot it under a clump little fallen trees. Just staring at us, posing.
So I took its picture.
Then, on our way home, I happened to see a red-tail alighting in a tree along the road. Pulled over, enabled my flashers, and took its picture, too.
Beech Hill List
Beginning at 8:32 a.m., I hiked all trails.
1. American Goldfinch
2. American Crow
3. Black-capped Chickadee
4. Eastern Bluebird
5. Northern Flicker
6. Tufted Titmouse
7. White-breasted Nuthatch
Elsewhere
8. Red-tailed Hawk
Mammals
Snowshoe Hare
(v) Voice only
*Also elsewhere
**Voice only elsewhere
†First-of-year