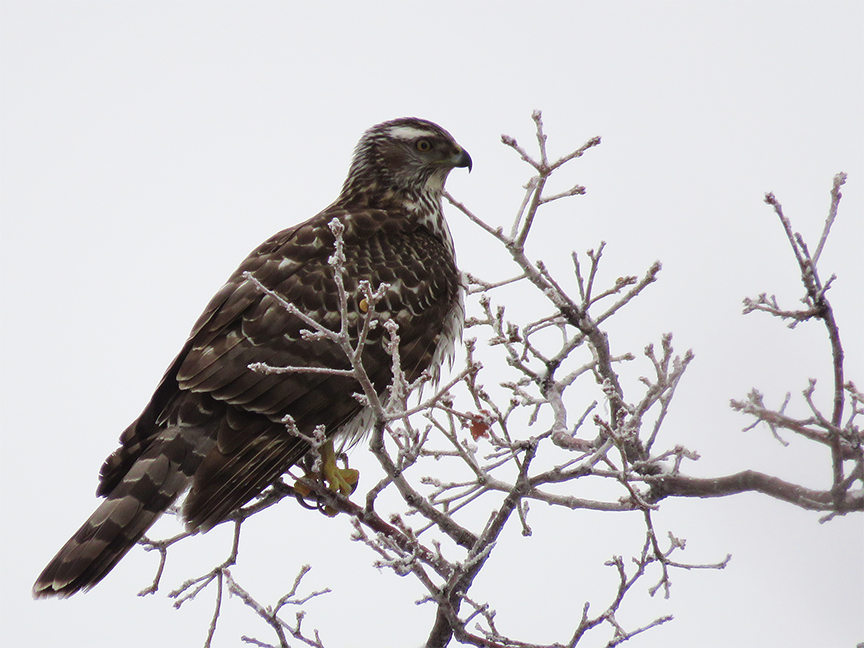 Light snow and thick fog this morning. Temps right around freezing (or a tad above). Dog and I didn't make it to the trailhead until late morning—still pretty foggy, and I didn't know what to expect. Kind of thought it might be fun to encounter a surprise.
And I did.
Returning from the first leg of trail (which offered up a few deer, fox tracks, and several bird species), I spotted a hawk sitting tall far ahead of us. Thought it was a red-tail at first, but then it took off, showing a long accipiter tail and relatively fast-flapping wings. It flew our way, perched quite near. It had white eyebrows.
My first ever Northern Goshawk. Woo-hoo!
Grandeur Peak Area List
Beginning at 11:30 a.m., I hiked a few hundred feet up the mountain.
1. House Finch** (v)
2. Black-billed Magpie**
3. Black-capped Chickadee (v)
4. Woodhouse's Scrub-jay**
5. Northern Flicker (v)
6. Northern Goshawk
7. Song Sparrow**
8. Pine Siskin
9. California Quail
Elsewhere
10. Lesser Goldfinch (v)
(v) Voice only
**Voice only elsewhere
†Lifer