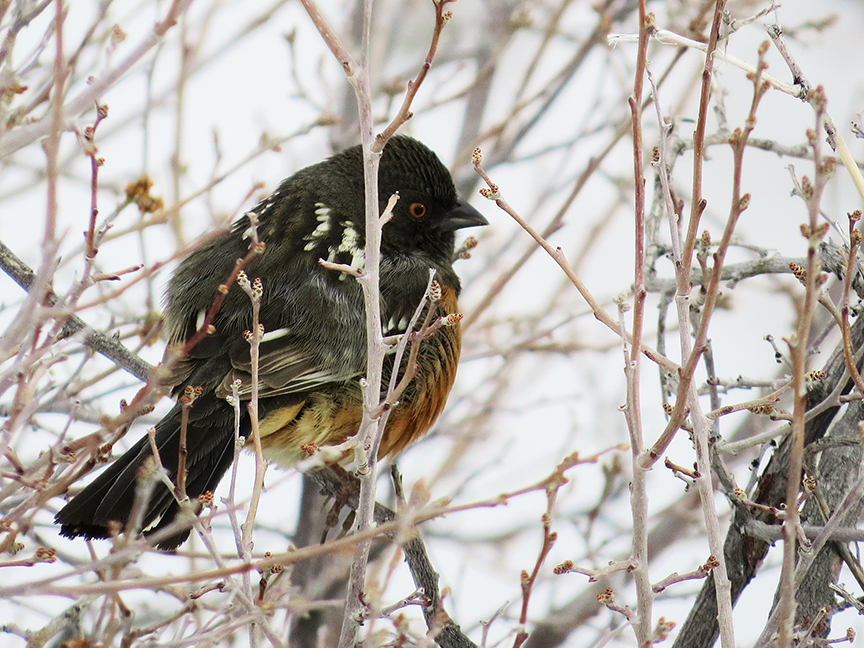 A winter-nippy, overcast morning, with snow on the trail and—after a few minutes—in the air. Fewer bird species than in recent days, but many more deer.
In fact, the most fun I had was—after failing to get a good look at a smallish accipiter flying low between the junipers—watching about a half-dozen deer, maybe forty or fifty yards from us, gaze down at us and communicate their concern among themselves before wandering in a gentle snowfall, as nonchalantly as they could, up the hillside and away.
Grandeur Peak Area List
Beginning at 8:40 a.m. (MST), I hiked several hundred feet up a mountain.
1. Woodhouse's Scrub-jay (v)
2. Lesser Goldfinch** (v)
3. Black-capped Chickadee**
4. Spotted Towhee*
5. House Finch* (v)
6. Rock Pigeon*
7. Black-billed Magpie
8. Northern Flicker
9. Hawk (sp?)
Elsewhere
10. American Robin
11. European Starling
12. Song Sparrow (v)
Mammals
Red Squirrel (v)
Mule Deer
(v) Voice only
*Also elsewhere
**Voice only elsewhere