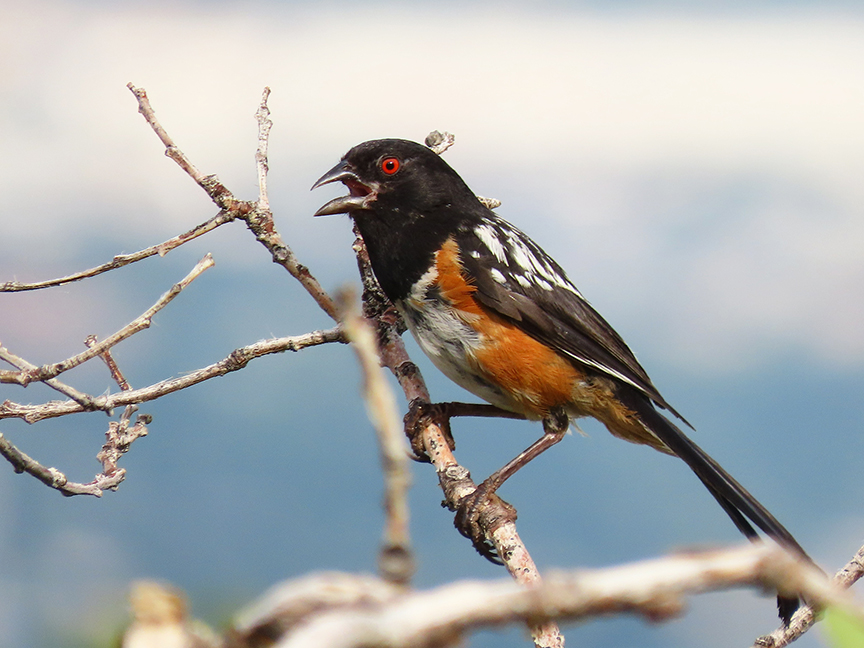 Enjoyed yet another hike with dog this morning—albeit the most muggy one I can recall. Last evening's rain had soaked in and/or dried up overnight, but the atmosphere held traces of the rare, welcome wetness. Didn't at all mind the sweat it drew from my pores.
Not a lot of bird action—mostly because fewer birds are vocalizing. Yep, it's that time of year: having left the nest, youngsters must be fed and kept track of; hawks (and dogs and humans) are about; the territorial imperative is less important than simply finding food and surviving. No need to make a lot of noise.
I heard only three singing towhees, and maybe four singing buntings. (Compare that to spring!) Counted only six of each species. Before long, both will have abandoned their songs entirely, resorting only to subtle chips and chatters.
Still, the singers will be back next April and May.
Grandeur Peak Area List
Beginning at 6:55 a.m. (7:55 MDT), I hiked a few hundred feet up a mountain.
1. Lazuli Bunting
2. Woodhouse's Scrub-jay
3. Black-capped Chickadee
4. Black-chinned Hummingbird*
5. Mourning Dove
6. House Finch**
7. Rock Pigeon
8. Black-billed Magpie*
9. Blue-gray Gnatcatcher
10. Spotted Towhee
11. Black-throated Gray Warbler
12. Cooper's Hawk (v)
13. Lesser Goldfinch
Elsewhere
14. Eurasian Collared-dove
15. House Sparrow (v)
16. California Quail
Mammals
Rock Squirrel
Red Squirrel