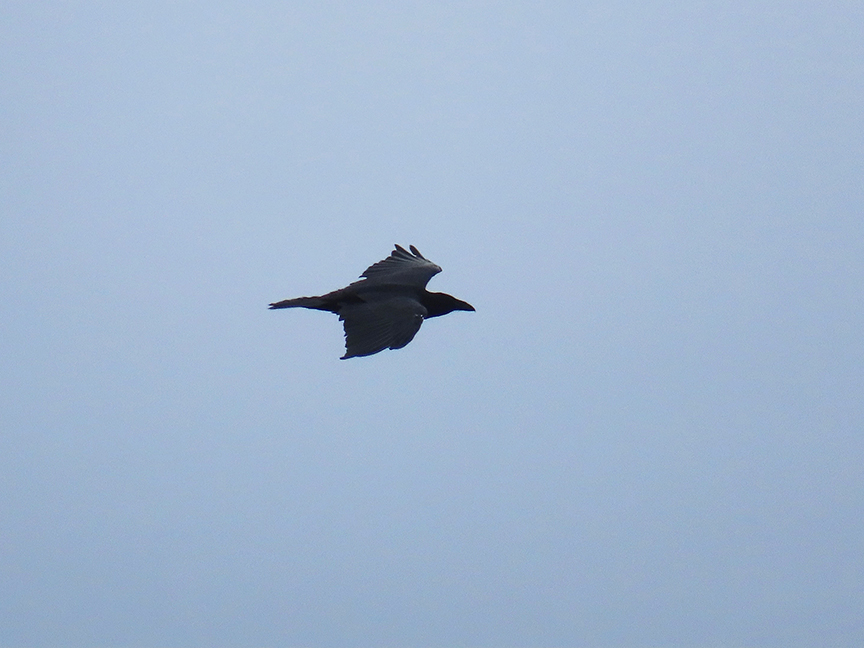 Was supposed to rain all day, so I'd prepared for dog and me to get wet. Welp, when we got to the trailhead, the sky was overcast, the air was damp, a wind was blowing—but no rain. We hiked our usual trails for nearly two hours, but the only wet we got was by brushing against trailside bushes.
Most notable this morning was the croak of a raven I heard within a couple of minutes of our arrival. Trees all around, I couldn't see it. I wanted badly to see it. The raven continued to vocalize—changing its cries from croaks to wails—as we ascended the hill, its sounds coming from somewhere near the summit. Could not see it. Finally, it must've seen us below and took flight.
I grabbed a photo.
It was a truly lovely, bracing, invigorating hike. Soon after our return home, it began to rain. Just now, in evening, it's still raining. Tomorrow, though, the sun's supposed to make an appearance.
Beech Hill List
Starting at 7:09 a.m. EST (8:09 DST), I hiked all trails.
1. American Crow*
2. Common Raven
3. Black-capped Chickadee (v)
4. American Goldfinch
5. Northern Cardinal (v)
6. Song Sparrow*
7. Common Yellowthroat (v)
8. Eastern Bluebird (v)
9. American Robin (v)
10. Savannah Sparrow
11. Gray Catbird**
12. Eastern Towhee
13. Eastern Wood-pewee (v)
14. Tufted Titmouse (v)
15. Cooper's Hawk
16. Cedar Waxwing
Elsewhere
17. Herring Gull
18. Canada Goose
19. Wild Turkey
20. Mourning Dove
(v) Voice only
*Also elsewhere
**Voice only elsewhere
†First-of-year