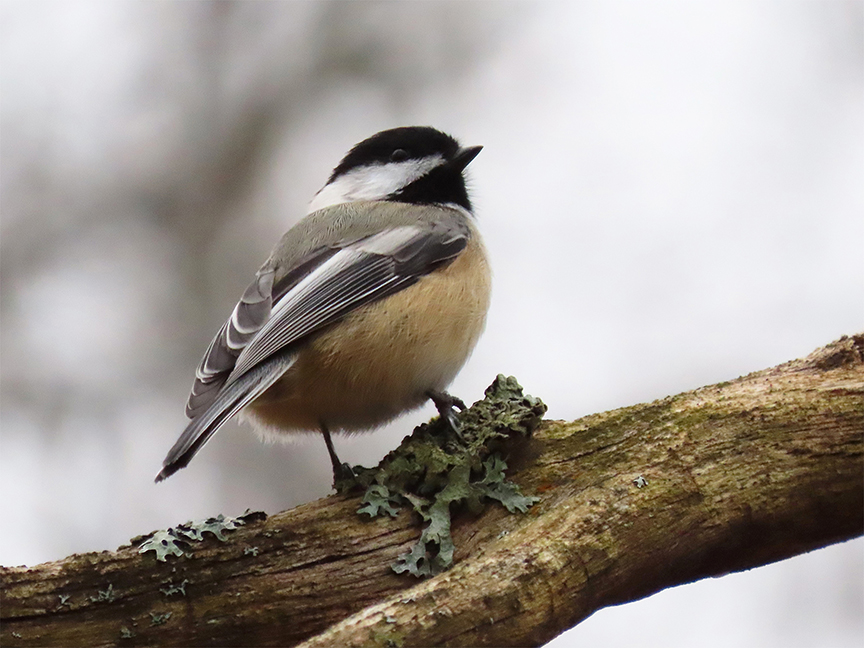 Rain in the forecast this morning, but not until mid-morning, so dog and I stuck to our usual schedule—but, it being overcast, began on the open trail. Not much wind, temps in the mid-30s (F), not many birds. Three corvid species, a couple woodpeckers, robin, finch, Brown Creeper.
Also chickadees of course. I kinda think of Black-capped Chickadees as my buddies. Their voices are ever upbeat, voices that help 'em keep good track of each other. They let you get pretty close without freaking out. They give other birds a sense of comfort, too, I've noticed—a sort of entourage. Plus, they mob and scold owls. (See yesterday's report.)
And they pose for photos. Had it not been for one of these little birds, I wouldn't've had any great pics today. So thanks, buddy.
Beech Hill List
Beginning at 7:25 a.m., I hiked all trails.
1. American Crow*
2. Blue Jay (v)
3. Black-capped Chickadee**
4. American Goldfinch (v)
5. Yellow-rumped Warbler
6. Downy Woodpecker
7. Common Raven
8. Brown Creeper
9. Northern Flicker
10. American Robin
Elsewhere
11. Wild Turkey
(v) Voice only
*Also elsewhere
**Voice only elsewhere
†First-of-year