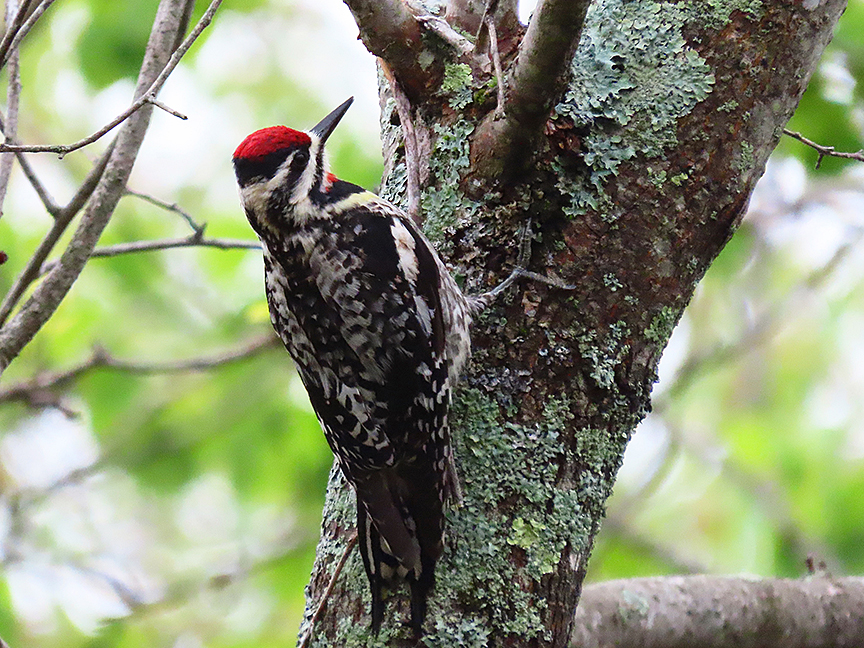 An overcast morning, calm and cool. Birds weren't particularly vocal, so I wondered if the atmospheric conditions might keep this morning's numbers down—but it turned out they were flitting all over the place.
Notable was a sapsucker that popped up as I was angling for photos of (I believe) a hummingbird. Three thrushes, nine warblers, two birds posing with nesting materials in their beaks (catbird and robin). One of the thrushes was a Prairie Warbler.
No first-of-years, but dog and I didn't mind.
Beech Hill List
Beginning at 8:05 a.m., I hiked most trails.
1. Red-eyed Vireo** (v)
2. Chestnut-sided Warbler**
3. Ovenbird**
4. Black-throated Green Warbler* (v)
5. American Crow*
6. Northern Parula (v)
7. Northern Cardinal (v)
8. Gray Catbird
9. Black-capped Chickadee
10. Great Crested Flycatcher (v)
11. Veery (v)
12. American Goldfinch*
13. American Redstart (v)
14. Eastern Towhee
15. Ruby-throated Hummingbird
16. Black-and-white Warbler
17. Common Yellowthroat (v)
18. Yellow-bellied Sapsucker
19. Blue Jay
20. Hermit Thrush
21. Tufted Titmouse**
22. Song Sparrow*
23. Yellow Warbler (v)
24. Common Raven
25. Field Sparrow
26. Eastern Phoebe* (v)
27. Prairie Warbler
28. Tree Swallow
29. American Robin
30. Savannah Sparrow
31. Nashville Warbler
32. Wood Thrush (v)
33. Eastern Bluebird
Elsewhere
34. Pine Warbler
35. Herring Gull
36. Purple Finch
37. Canada Goose
38. Mallard
(v) Voice only
*Also elsewhere
**Voice only elsewhere
†First-of-year