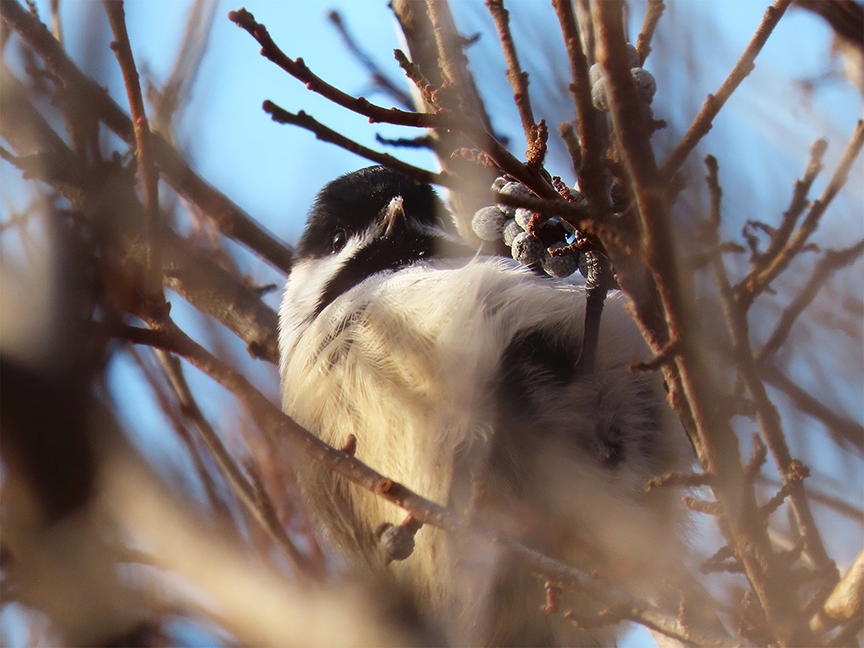 The day dawned brighter than expected, with a temperate right about freezing. A bit of a breeze, but not too strong. Snow still covering much of the earth—though quite a bit has vanished overnight.
My hike with dog was a quiet one. Not a bunch of birds, but at least a chickadee angling for bayberries posed for a photo.
(One mammal: Red Squirrel.)
I wonder what tomorrow will bring?
Beech Hill List
Beginning at 8:01 a.m., I hiked all trails.
1. Tufted Titmouse**
2. American Crow* (v)
3. Black-capped Chickadee
4. Yellow-rumped Warbler (v)
5. Downy Woodpecker (v)
6. American Goldfinch
Elsewhere
7. Herring Gull
8. European Starling
Mammals
American Red Squirrel
(v) Voice onlyarling
*Also elsewhere
**Voice only elsewhere
†First-of-year