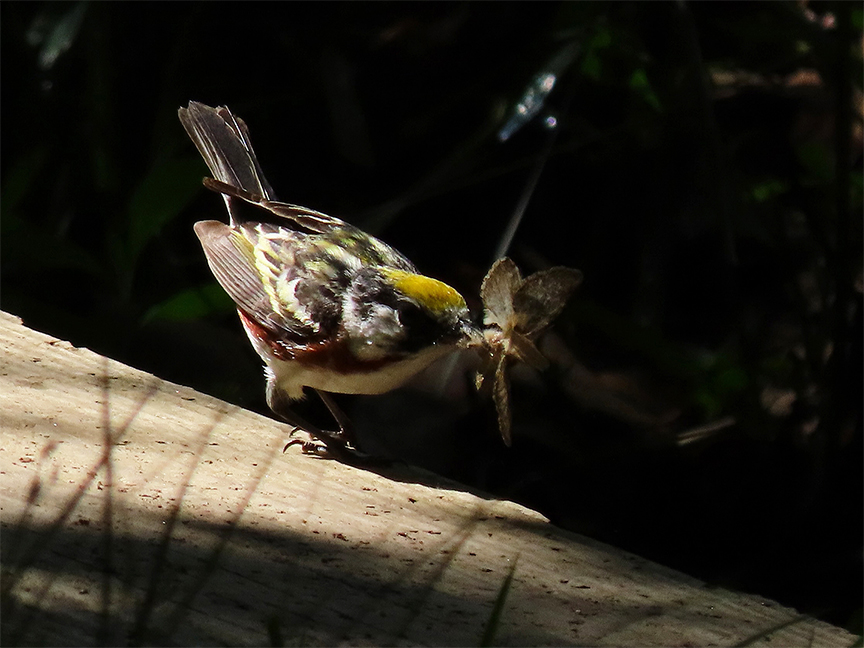 Had some things to do this early morning, so Captain Jack and I didn't hit the trailhead until about an hour later than usual. It'd rained a bit overnight, and the trails were dewy—and the birds were bit quieter than in recent days.
However, over the course of our hike, birds did emerge. Quite a few species.
Notable: a Great Crested Flycatcher, chippie fledgling, a warbler wrangling a big moth. A loon in flight somewhere, a Rose-breasted Grosbeak—and the vocal House Wren is back.
We'll do it again tomorrow, dog and I.
Beech Hill List
Beginning at 8:24 a.m., I hiked most trails.
`1. Ovenbird (v)
2. American Goldfinch**
3. Red-eyed Vireo**
4. Black-throated Green Warbler (v)
5. Wood Thrush (v)
6. Veery (v)
7. Chestnut-sided Warbler**
8. Black-capped Chickadee (v)
9. Common Yellowthroat**
10. Eastern Towhee
11. Gray Catbird**
12. American Crow* (v)
13. Yellow Warbler
14. Song Sparrow**
15. Great Crested Flycatcher (v)
16. Northern Flicker (v)
17. Cedar Waxwing
18. Downy Woodpecker (v)
19. Turkey Vulture
20. Chipping Sparrow
21. Field Sparrow
22. Northern Cardinal**
23. Prairie Warbler
24. House Wren (v)
25. Rose-breasted Grosbeak
26. Common Loon (v)
27. American Robin
28. Nashville Warbler (v)
29. Herring Gull*
30. Black-and-white Warbler (v)
31. Hermit Thrush (v)
Mammals
Eastern Chipmunk
(v) Voice only
*Also elsewhere
**Voice only elsewhere
†First-of-year