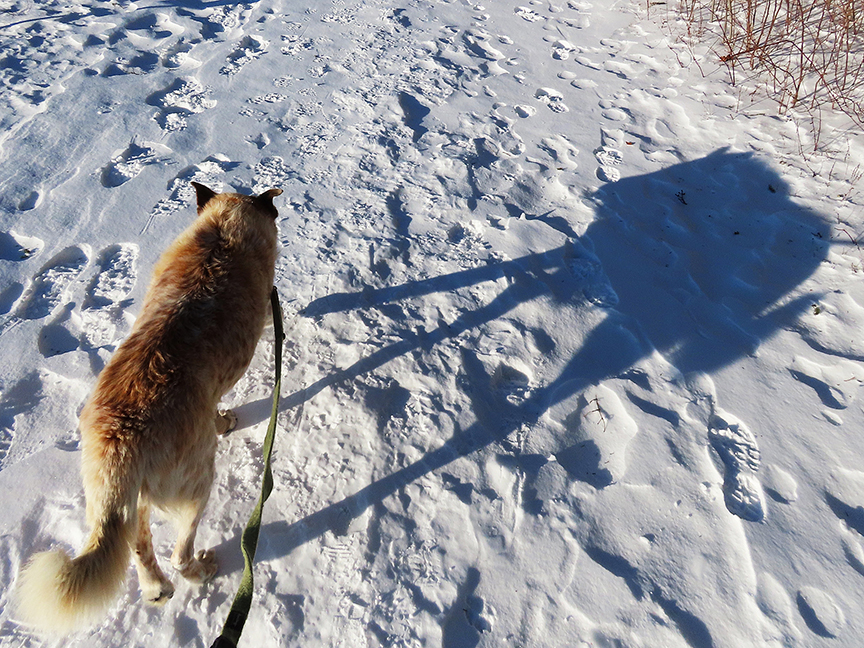 The forecasts called for –15° (F) temperatures overnight last night. Captain Jack woke me up a bit early, and I checked the weather, and it was –17°. A couple hours later, it was maybe –12°—but at that point, I knew we weren't gonna hike until afternoon, when the temperatures would be above zero, and the winds would be only (only!) 15 mph.
So that's what we did. It was a brilliantly sunny day, which—for those in the know—tend to be the coldest winter days, but by 2 p.m. or so, the air measured about 5°, and the winds had died down some. Considering the bright sun, we headed on up the hill.
As yesterday, we were alone up there. And—despite my pessimism—I actually had three birds on my list. (No photos, though.) And the discomfort turned out to be somewhat less than yesterday morning's, likely because of the sun's warmth and lighter winds.
Tomorrow will be balmy by comparison.
Beech Hill List
Beginning at 2:14 p.m., I hiked the main trail—and then some.
1. American Crow
2. Black-capped Chickadee (v)
3. Herring Gull
Elsewhere
4. Northern Cardinal (v)
5. White-breasted Nuthatch (v)
(v) Voice only
*Also elsewhere
**Voice only elsewhere
†First-of-year