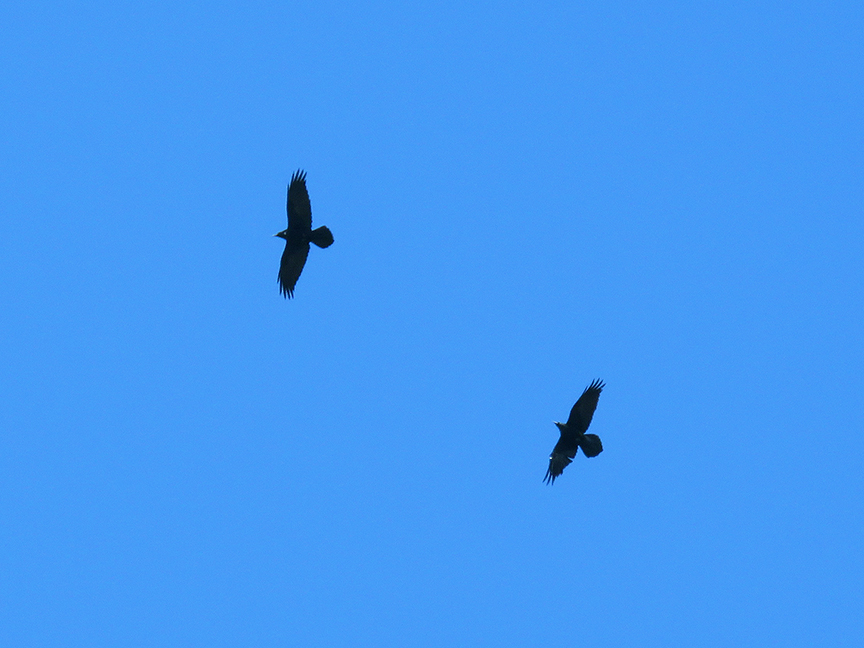 Light, wet snow this morning. Also, this was my day to shop for groceries in a pandemic. Long story short: dog and I didn't get up the hill until early afternoon (DST—high noon Earth time).
By then, the sun had come out.
No really outlandish birds, but a lovely hike. I did catch the chattering call of a Ruby-crowned Kinglet, then (about ten minutes later) managed to spot the bird, which felt like a minor success and/or vindication.
Lots of robins, juncos, towhees. And a pair of ravens.
Grandeur Peak Area List
Beginning at 1:00 p.m., I hiked several hundred feet up a mountain.
1. Black-capped Chickadee*
2. Black-billed Magpie*
3. Eastern Towhee
4. House Finch* (v)
5. Woodhouse's Scrub-jay**
6. Song Sparrow* (v)
7. American Robin*
8. Dark-eyed Junco
9. Ruby-crowned Kinglet
10. Northern Flicker
11. Common Raven
12. Turkey Vulture
13. Pine Siskin
Elsewhere
14. Eurasian Collared Dove
15. Lesser Goldfinch (v)
16. European Starling
17. Rock Pigeon
18. California Quail
Mammals
Mule Deer
(v) Voice only
*Also elsewhere
**Voice only elsewhere