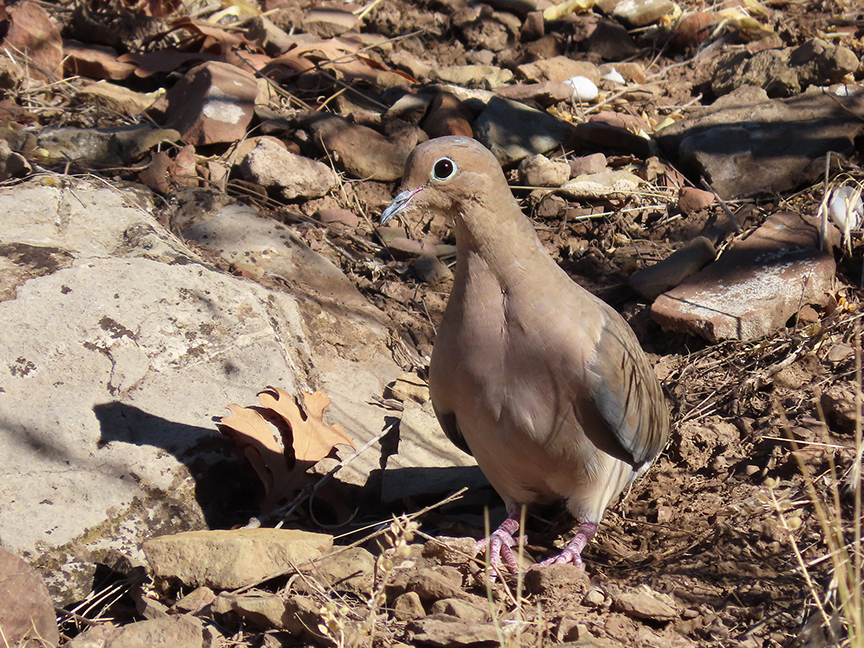 On this bright, nippy morning's hike with dog, I happened upon quite a few bird species. But I want to single out just one: Mourning Dove.
Late in our hike, we came around a shady curve and into a section of sun—when I saw a flutter and heard whistling wings. I just had a glimpse, but I knew what it was. Except I hadn't seen where it'd flown. Took a few more steps, and again the dove (about ten feet in front of us on the trail) fluttered a short distance away. This time it posed for a photo.
A couple more steps and it whistled down into the shady canyon somewhere. The other species were fun and/or challenging—but for some reason I appreciated our encounter with the dove.
Grandeur Peak Area List
Beginning at 8:34 a.m., I hiked a few hundred feet up a mountain.
1. House Finch**
2. Black-billed Magpie*
3. Yellow-rumped Warbler
4. Dark-eyed Junco
5. Pine Siskin
6. Northern Flicker**
7. Woodhouse's Scrub-jay
8. Black-capped Chickadee
9. Downy Woodpecker (v)
10. Spotted Towhee
11. Juniper Titmouse
12. Lesser Goldfinch
13. Golden Eagle
14. Ruby-crowned Kinglet
15. Mourning Dove
16. Chipping Sparrow
Elsewhere
17. Cedar Waxwing (v)
18. Song Sparrow (v)
(v) Voice only
*Also elsewhere
**Voice only elsewhere