Late hike this morning. Thirties (F) early, but temps took off into the 60s by mid-afternoon. Good hike, not a load of birds.
However, one of the birds [come to realize three days later] was a lifer: a Townsend's Solitaire. The bird was perched atop a scrub oak, facing away—and backlit. I could see it had a thrush's shape and first thought it might be a robin, but I could detect only a distinct eye-ring when it turned its shaded face. It sat a bit upright, like a bluebird, but it wasn't big enough.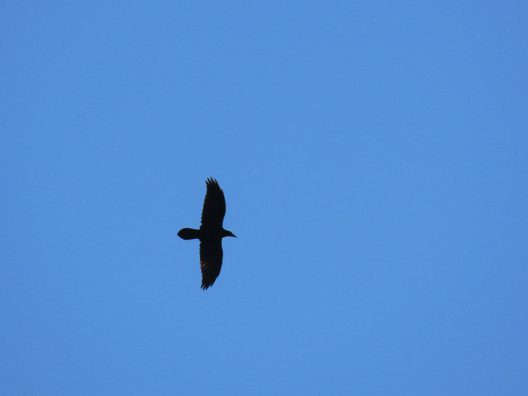 Then I hard the note of a thrush behind me and turned and saw the spckled breast of what I'm sure was a Hermit Thrush hiding in the scrub. Eventually, it seemed, both birds flew away together—but when the backlit bird flew, it showed clear light stripes beneath its wings. Later, online, I found photos showing that hermits do indeed show these stripes in flight, and so I declared that the species.
On the trail days later, I saw what I assumed was my first Townsend's Solitaire, perched on the tip of a tree—upright posture, eye-ring, etc. Later I thought, Wait a minute. Sure enough, inspecting this day's photos again, I could see all the signs of a solitaire (posture, eye-ring, tendency to perch for long moments at the tips of trees, long wings, little tan patch on wing).
A highlight for sure.
(Another highlight was a telltale croaking from above, and I got a look at my first Utah raven.)
Grandeur Peak Area List
Beginning at 10:45 a.m., I hiked a few hundred feet up the mountain.
1. House Finch*
2. Woodhouse's Scrub-jay**
3. Black-capped Chickadee**
4. Black-billed Magpie*
5. Common Raven
6. Dark-eyed Junco
7. Ruby-crowned Kinglet
8. Hermit Thrush
9. American Robin**
10. Townsend's Solitaire‡
Elsewhere
11. Eurasian Collared Dove
12. House Sparrow
13. Rock Pigeon
14. Lesser Goldfinch
15. Downy Woodpecker (v)
16. Song Sparrow
v = Voice only
*Also elsewhere
**Voice only elsewhere
‡Lifer