All three mountain hikes I've taken with Jack have resulted in at least one life-list bird for me—and today there were three.
First was a Spotted Towhee, which I knew about, heard first, spotted briefly, then got a full view of a female. Similar to the familiar (to me) Eastern Towhee but with a different voice.
Next was a Broad-tailed Hummingbird, which I'd been looking for (but had seen only black-chins)—a female perched calmy near us pretty far up the trail.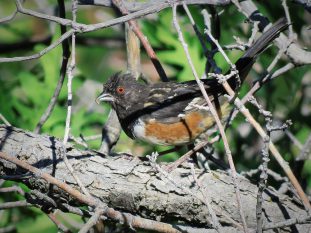 Finally, back in my suburban neighborhood, I spied a mostly blue, jay-sized bird on somebody's fence gate. Had to look it up. Never even heard of Woodhouse's Scrub-jay before.
Low sixties (F) this morning in the shade of the mountain, about 90 in the heat of the day. Ah, the high desert.
Grandeur Peak Area List
Beginning at 9:30 a.m., I hiked several hundred feet up a Utah mountain.
1. Black-billed Magpie
2. Mourning Dove
3. Eurasian Collared Dove (v)
4. California Quail
5. House Sparrow
6. House Finch
7. American Goldfinch
8. Lazuli Bunting
9. Black-capped Chickadee
10. Cooper's Hawk
11. Blue-gray Gnatcatcher
12. Spotted Towhee‡
13. American Kestrel
14. Black-chinned Hummingbird
15. Broad-tailed Hummingbird‡
16. Woodhouse's Scrub-jay‡
17. Gray Catbird (v)
v = Voice only
‡Lifer