Beech Hill List
Beginning at 10:45 am, I hiked the open trail.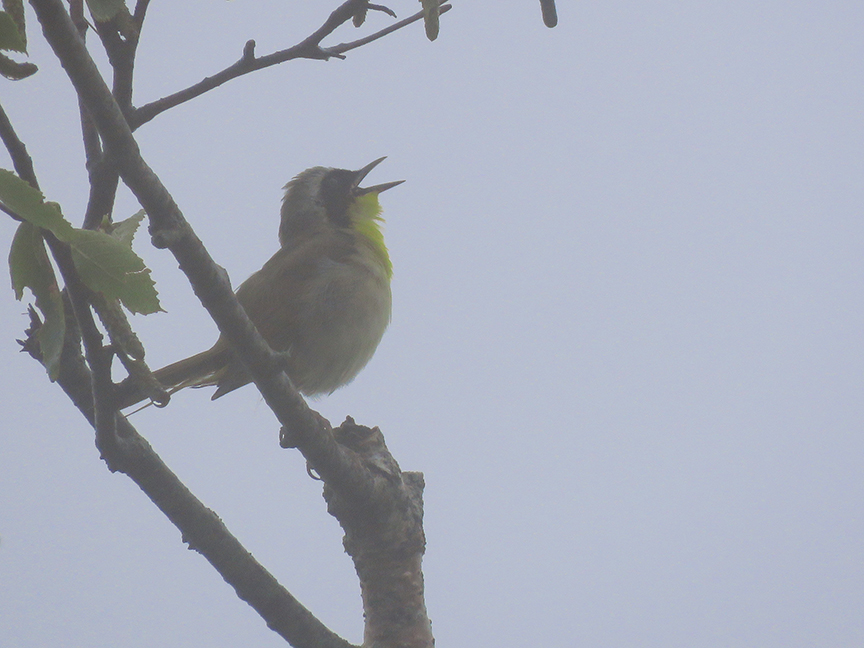 Rained from early until mid-morning, pouring for some of it. But then Jack and I took our daily hike up a muddy foggy hill, and we encountered a plethora of bird families there.
Yep, the birds were definitely out. A bunch of 'em, too—way more than I'd expected. All their vocal interactions, for some reason, got me thinking (not for the first time) about clear communication. Modern humans don't seem to have a whole lot of this, but birds sure do.
Songs, notes, warnings, subtleness, loudness, alarm.
A happy day is one with the voices of birds.
1. Veery (v)
2. White-breasted Nuthatch (v)
3. American Redstart
4. Purple Finch
5. Rose-breasted Grosbeak
6. Red-eyed Vireo
7. Chipping Sparrow*
8. Common Yellowthroat
9. American Crow*
10. Ovenbird (v)
11. Eastern Towhee
12. Chestnut-sided Warbler (v)
13. Yellow Warbler
14. Hermit Thrush (v)
15. Song Sparrow**
16. Gray Catbird* (v)
17. Nashville Warbler (v)
18. Mourning Dove*
19. Savannah Sparrow (v)
20. Herring Gull*
21. Eastern Phoebe*
22. Cedar Waxwing
23. Northern Flicker
24. Black-capped Chickadee
25. American Goldfinch** (v)
26. Blue Jay (v)
27. Common Raven (v)
28. Scarlet Tanager (v)
29.Tufted Titmouse (v)
Elsewhere
30. House Finch
31. Wild Turkey
32. House Sparrow
v = voice only
*Also elsewhere
**Voice only elsewhere