Beech Hill List
Beginning at 7:45 a.m., I hiked the open trail.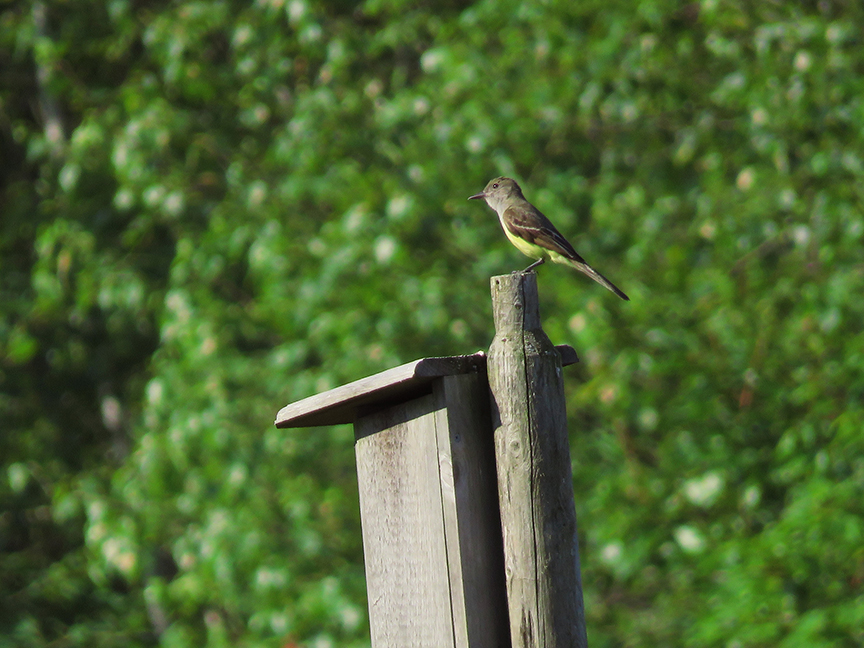 A sunny, calmish, summery day. Bird's still a little skittish and quiet, but many have fledglings and are moving around. Watched a quiet Great Crested Flycatcher moving from perch to perch, settling for a moment on a bluebird box. At the summit of the hill saw chippies and a bright red purple finch and a Morning Dove.
But the best treat for me this morning was meeting a dog named Raisin—a young female rescue who went from a hero in this community to needing expensive medical care a month or so ago—and got it through donations. She seemed perfectly happy and healthy.
Got some work done, then took a long bike ride. Just a lovely day.
1. Veery (v)
2. Chestnut-sided Warbler (v)
3. Tufted Titmouse (v)
4. Song Sparrow**
5. Common Yellowthroat**
6. Eastern Towhee
7. Ovenbird (v)
8. American Goldfinch
9. Gray Catbird*
10. Northern Flicker (v)
11. Great Crested Flycatcher
12. Alder Flycatcher
13. Purple Finch
14. Tree Swallow
15. Field Sparrow (v)
16. Cedar Waxwing
17. Red-eyed Vireo (v)
18. American Crow*
19. American Robin*
20. Eastern Bluebird
21. Chipping Sparrow
22. Nashville Warbler (v)
23. Mourning Dove*
24. Northern Cardinal (v)
25. Eastern Phoebe
26. American Redstart (v)
Elsewhere
27. Herring Gull
28. Osprey
29. Rock Pigeon
30. Yellow Warbler
v = Voice only
*Also elsewhere
**Voice only elsewhere