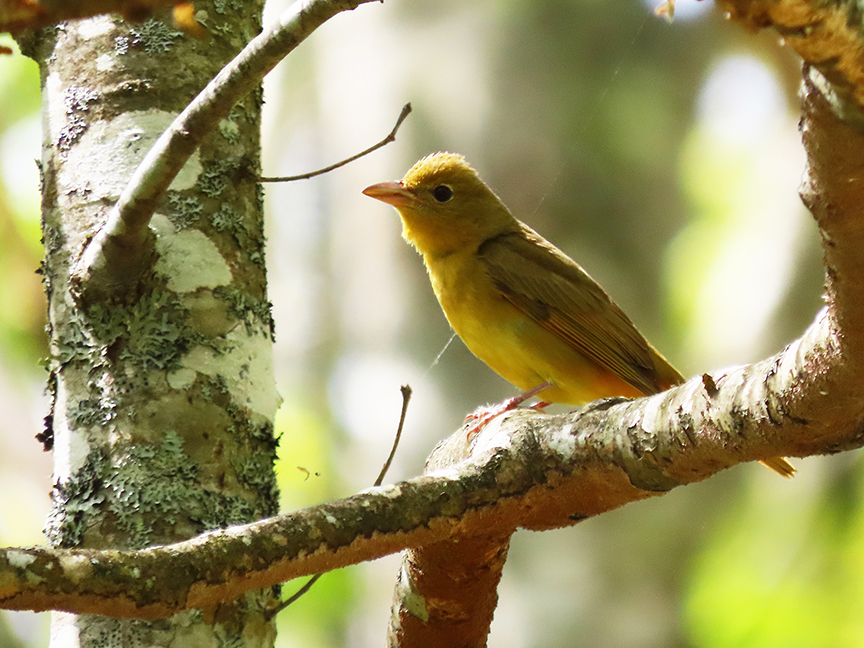 A mostly clear, coolish, breezy morning. Just a lovely day. Quite a few birds about despite the wind—including a surprise vagrant on our return, one that happened to be a lifer for me. A Summer Tanager (female).
I assumed at first it was a female Scarlet Tanager. Kind of embarrassed I didn't notice the differences in the field. Unmistakable, though, in retrospect.
Otherwise just a very lovely day overall. Rode my bike this afternoon to do errands. (Never had thundershowers last night, BTW.)
Beech Hill List
Beginning at 8:49 a.m., I hiked most trails.
1. Chestnut-sided Warbler**
2. Red-eyed Vireo**
3. Ovenbird**
4. Tufted Titmouse (v)
5. Song Sparrow**
6. Black-throated Green Warbler (v)
7. American Goldfinch (v)
8. American Crow*
9. Black-capped Chickadee
10. Veery (v)
11. Gray Catbird**
12. Wood Thrush (v)
13. Black-and-white Warbler
14. Northern Parula
15. Eastern Towhee
16. American Redstart
17. Common Yellowthroat
18. Ruby-throated Hummingbird (v)
19. Alder Flycatcher
20. Yellow Warbler
21. Chipping Sparrow**
22. Field Sparrow
23. American Robin
24. Rose-breasted Grosbeak (v)
25. Tree Swallow
26. Eastern Bluebird
27. Great Crested Flycatcher (v)
28. Turkey Vulture*
29. Savannah Sparrow
30. Eastern Wood-pewee
31. Blue-headed Vireo
32. Brown Creeper
33. Summer Tanager†‡
34. Northern Flicker (v)
Elsewhere
35. Wild Turkey
36. Northern Cardinal (v)
37. Mallard
38. Mourning Dove (v)
(v) Voice only
*Also elsewhere
**Voice only elsewhere
†First-of-year
‡Lifer