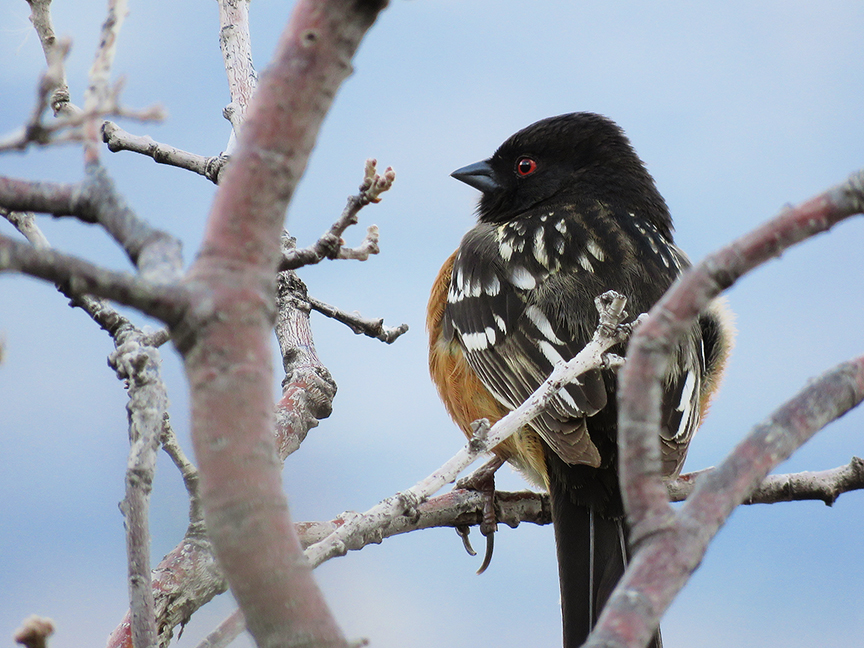 This morning I had a thrill.
My hike with dog began as usual (albeit a bit early, to avoid the housebound "throngs"). Jack and I climbed the switchback, squinted into the sun, listened to singing Spotted Towhees. Then I heard Chukars and decided we might as well head up a deer trail to investigate.
As usual, we didn't get anywhere near the Chukars—but we scouted new, interesting trails, passed the ribcage of a long-dead deer, enjoyed the high views. Then, on descending back to the familiar trail, I heard it, and it brought me to a stop: the song of a Canyon Wren.
I'd been waiting for it for a while but didn't expect to hear it so soon. It came from way up the hillside we'd just descended—likely from the rocky summit ridge. Once. Twice. Three times. That was all. That was enough.
Looking forward to my second listen to that lovely song.
Grandeur Peak Area List
Beginning at 9:15 a.m., I hiked a couple hundred feet up the mountain.
1. American Robin**
2. Black-billed Magpie*
3. House Finch* (v)
4. Black-capped Chickadee**
5. Northern Flicker (v)
6. Rock Pigeon
7. Woodhouse's Scrub-jay
8. Spotted Towhee
9. Pine Siskin (v)
10. Chukar (v)
11. Canyon Wren (v)
12. California Quail (v)
Elsewhere
13. Song Sparrow
14. Eurasian Collared Dove
Mammals
Mule Deer
(v) Voice only
*Also elsewhere
**Voice only elsewhere