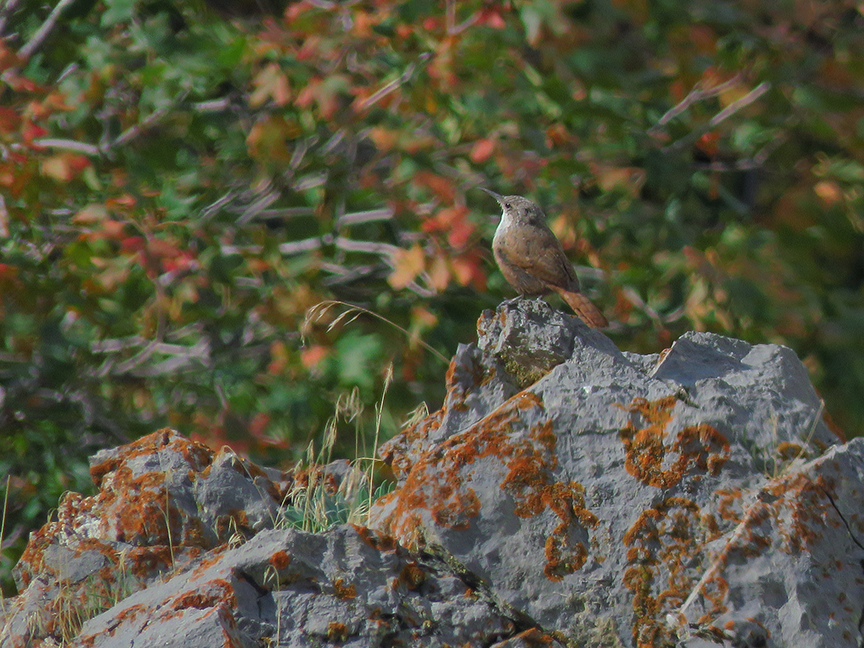 This nippy morning on the mountainside, toward the end of my hike with dog, I heard an unfamiliar, loud, raspy sort of bird call. I tracked it down around a canyon rim. It was a Canyon Wren. A lifer for me.
Otherwise, lots of migrants moving through. Fall is in full force already. And already looking forward to tomorrow's morning excursion.
Grandeur Peak Area List
Beginning at 9: a.m., I hiked a few hundred feet up the mountain.
1. Song Sparrow* (v)
2. Black-billed Magpie*
3. Woodhouse's Scrub-jay*
4. American Robin*
5. House Finch*
6. Black-capped Chickadee*
7. Northern Flicker (v)
8. Spotted Towhee**
9. Dark-eyed Junco
10. Vireo (sp.)
11. Chipping Sparrow
12. Blue-gray Gnatcatcher
13. Buteo (sp)
14. Ruby-crowned Kinglet
15. Downy Woodpecker
16. Canyon Wren‡
Elsewhere
17. Eurasian Collared Dove
18. House Sparrow (v)
19. California Quail
20. Lesser Goldfinch (v)
21. Rock Pigeon
v = Voice only
*Also elsewhere
**Voice only elsewhere