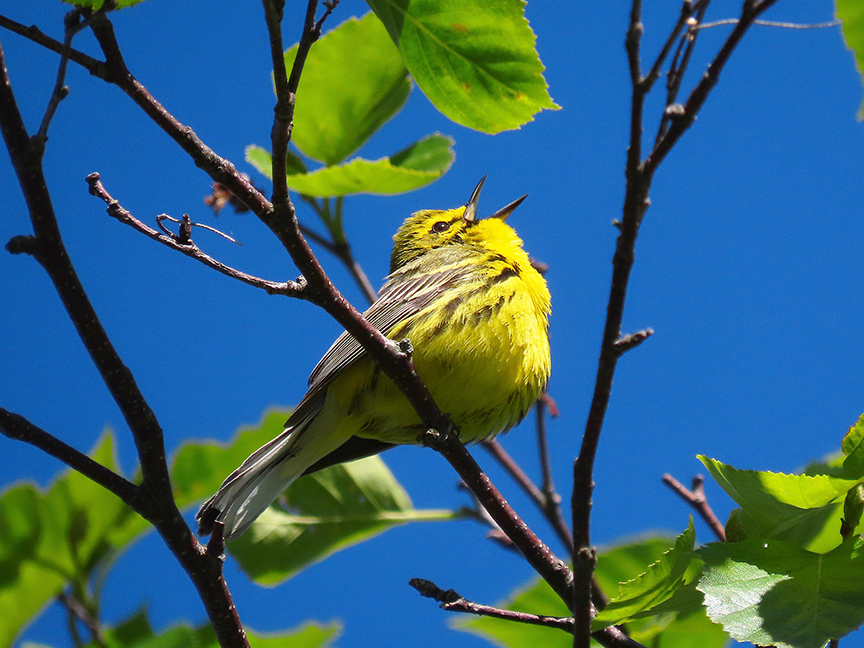 In my thirty-something days of Maine hikes with dog so far, I've noticed a few differences in the bird populations from when we moved to Utah in the summer of 2019. For one thing, a Prairie Warbler—once an uncommon (but thrilling) visitor to Beech Hill—has claimed its territory. Clearly global warming has brought this species farther north.
For another thing, after hearing Scarlet Tanagers weeks earlier than usual, I have yet to see one. Have they moved through? Are they nesting already? Will I see fledglings?
Meanwhile, I've encountered no Black-throated Blue Warbler. My favorite wood-warbler, I miss seeing and hearing this lovely looking (and sounding) bird. Very few waxwings also. And of course there was that Summer Tanager a couple weeks ago.
But it's still a bit early yet. I'll get a better idea once fledglings emerge. Another miracle to look forward to.
Beech Hill List
Beginning at 7:30 a.m., I hiked most trails.
1. Red-eyed Vireo**
2. Ovenbird**
3. Eastern Phoebe*
4. Black-throated Green Warbler (v)
5. Common Yellowthroat
6. Veery (v)
7. American Goldfinch
8. Red-breasted Nuthatch (v)
9. American Crow* (v)
10. American Redstart** (v)
11. Chestnut-sided Warbler**
12. Black-capped Chickadee** (v)
13. Gray Catbird*
14. Alder Flycatcher
15. Eastern Towhee
16. Tufted Titmouse (v)
17. Eastern Wood-pewee
18. Black-and-white Warbler (v)
19. Yellow Warbler
20. Black-billed Cuckoo (v)
21. American Woodcock†
22. Song Sparrow*
23. Tree Swallow
24. Osprey
25. Chipping Sparrow
26. Prairie Warbler
27. House Wren
28. Turkey Vulture
29. Rose-breasted Grosbeak (v)
30. Northern Parula (v)
31. Field Sparrow (v)
32. Broad-winged Hawk
33. American Robin (v)
34. Northern Cardinal** (v)
Elsewhere
35. Mallard
36. European Starling
37. Herring Gull
38. Rock Pigeon
39. Double-crested Cormorant
(v) Voice only
*Also elsewhere
**Voice only elsewhere
†First-of-year