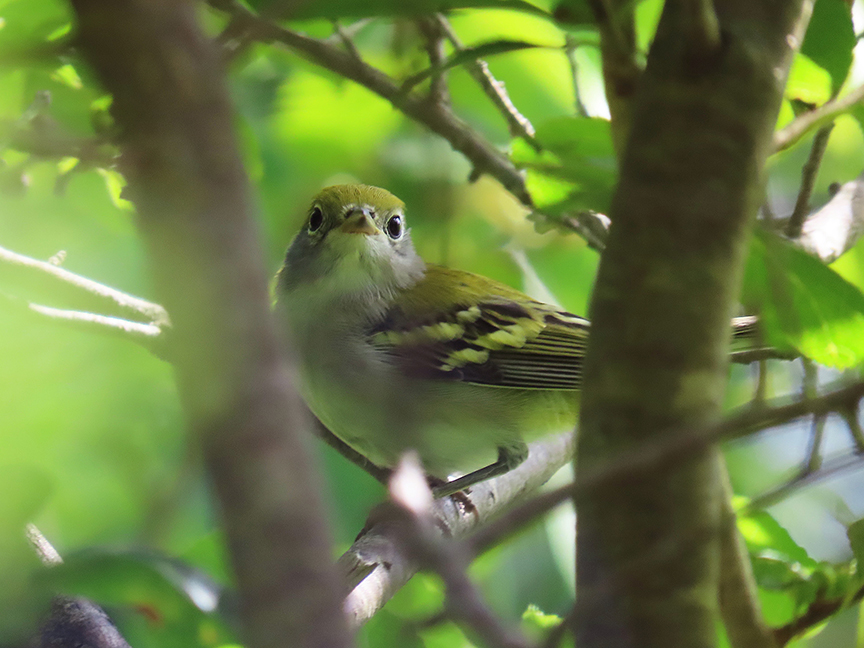 A cool and sunny morning. Still quiet, bird-wise, so it took some gazing in the canopy to spy the little birds along the lower wooded trail. Notable in the open fields were a pair of Broad-winged Hawks and a vulture.
Returning in the upper woods, I got a look at a couple warblers along the trail. Even got a photo of one, a juvie Chestnut-sided Warbler. It was looking right at me.
Beech Hill List
Starting at 6:54 a.m. EST (7:54 DST), I hiked all trails.
1. Wild Turkey
2. Red-eyed Vireo** (v)
3. American Goldfinch
4. Eastern Wood-pewee
5. Tufted Titmouse (v)
6. Black-capped Chickadee (v)
7. Black-and-white Warbler
8. Ovenbird (v)
9. Brown Creeper (v)
10. White-breasted Nuthatch (v)
11. American Crow*
12. Eastern Towhee
13. Gray Catbird (v)
14. Alder Flycatcher
15. Cedar Waxwing
16. Song Sparrow
17. Broad-winged Hawk
18. Turkey Vulture
19. Northern Cardinal (v)
20. American Robin
21. Common Yellowthroat (v)
22. Chestnut-sided Warbler
Elsewhere
23. Herring Gull
24. Rock Pigeon
25. Bald Eagle
(v) Voice only
*Also elsewhere
**Voice only elsewhere
†First-of-year