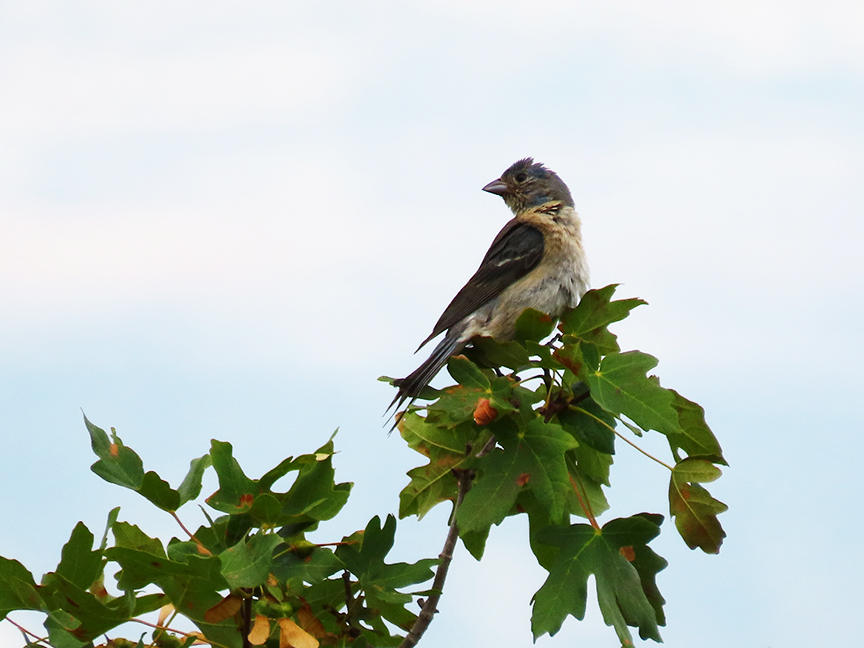 A mostly overcast morning, with a slight breeze and a trace of humidity in the air. Birds were active near the trailhead—but up on the deer trails, things were eerily quiet. For example, I counted a flock of a couple dozen magpies below the bluff, but heard only two singing towhees above it.
So I had to pay closer attention to subtle signs. The abrupt chip of a grosbeak. The sharper chip of a bunting (few of which were singing also). The dry chip of a Black-throated Gray Warbler. Heard a singing gnatcatcher. Heard both young and adult Cooper's Hawks. Subsequently saw all these birds except the hawks.
True, most of the subtle signs were heard. But I did spy a faint movement among the rocks that turned out to be a pair of doves.d
No rain today, but the chances of thundershowers are forecast to increase as the week progresses.
Grandeur Peak Area List
Beginning at 7:10 a.m. (8:10 MDT), I hiked a few hundred feet up a mountain.
1. House Finch*
2. California Quail (v)
3. Black-capped Chickadee (v)
4. Lazuli Bunting
5. Woodhouse's Scrub-jay
6. Lesser Goldfinch** (v)
7. Mourning Dove
8. American Robin
9. Black-headed Grosbeak
10. Black-billed Magpie*
11. Rock Pigeon*
12. Black-chinned Hummingbird
13. Blue-gray Gnatcatcher
14. Cooper's Hawk (v)
15. Spotted Towhee
16. Black-throated Gray Warbler
Mammals
Rock Squirrel
(v) Voice only
*Also elsewhere
**Voice only elsewhere