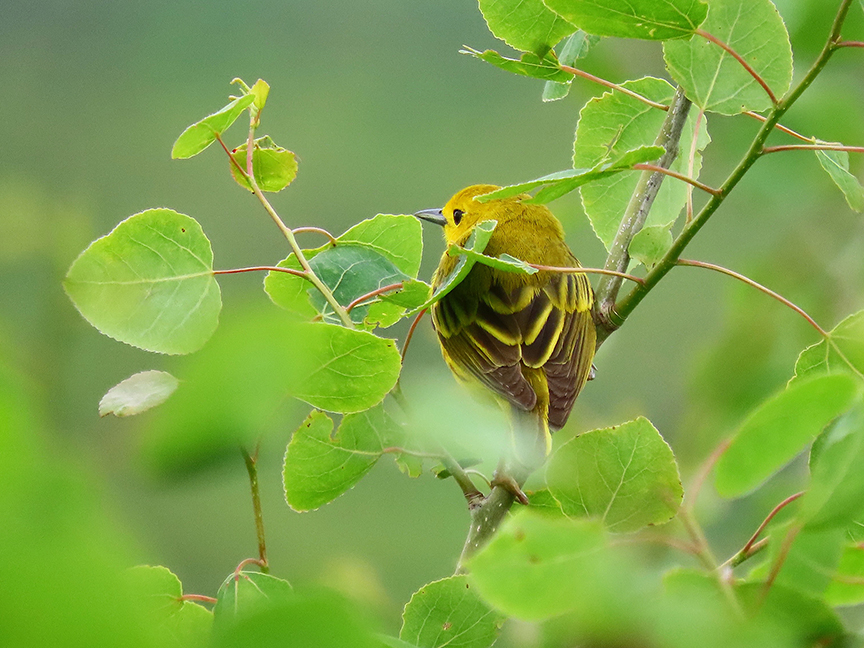 Despite the drippy, overcast conditions, this morning had plenty of bird species—and also a couple of mammals. Not so many mammals on my Maine lists as on my Utah lists, but considering these leafy, wooded conditions compared to the wide open spaces out west, it kind of figures.
Still, it was kind of a thrill to accidentally sneak up on a browsing White-tailed Deer—and, just a few minutes later, surprise a Snowshoe Hare.
Bird-wise, too, fruitful. We're coming upon the fruitful time of year.
Beech Hill List
Beginning at 8:13 a.m., I hiked most trails.
1. Red-eyed Vireo**
2. Ovenbird** (v)
3. Eastern Phoebe*
4. Song Sparrow**
5. Common Yellowthroat (v)
6. American Crow*
7. Northern Cardinal** (v)
8. Black-throated Green Warbler (v)
9. Veery
10. American Goldfinch
11. American Redstart**
12. Chestnut-sided Warbler**
13. Gray Catbird
14. Pileated Woodpecker (v)
15. Black-capped Chickadee** (v)
16. Red-breasted Nuthatch (v)
17. Alder Flycatcher
18. Blue Jay (v)
19. Tufted Titmouse
20. Eastern Towhee
21. Field Sparrow (v)
22. Yellow Warbler
23. American Robin
24. Turkey Vulture
25. Prairie Warbler (v)
26. House Wren
27. Black-and-white Warbler (v)
28. Great Crested Flycatcher (v)
29. Broad-winged Hawk
30. Nashville Warbler (v)
31. Herring Gull*
32. Eastern Wood-pewee (v)
Elsewhere
33. Mallard
(v) Voice only
*Also elsewhere
**Voice only elsewhere
†First-of-year