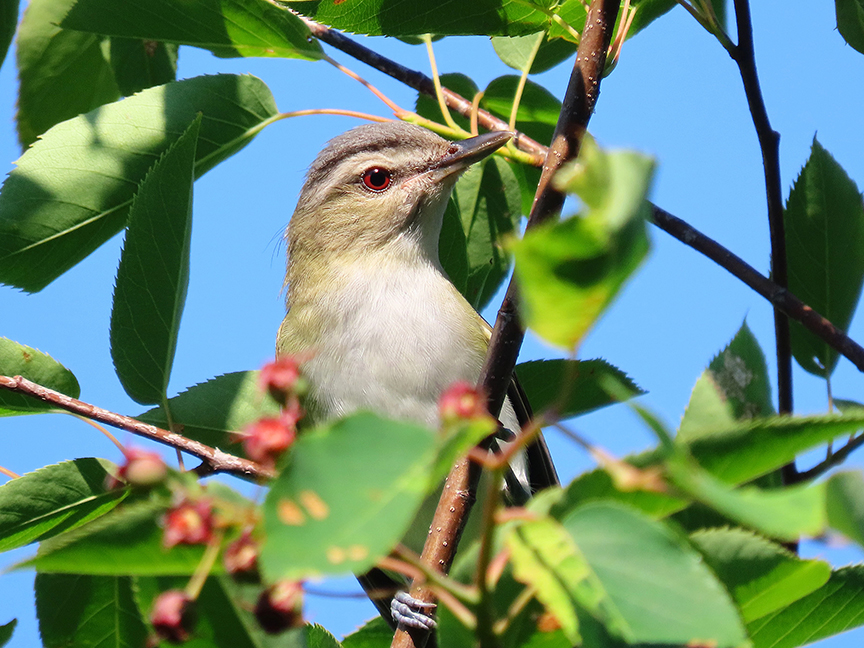 Dog and I got to the trailhead a bit later than yesterday, but still we were the first in the parking lot. Not as warm as yesterday, not quite as cloudless, not quite so many mosquitos—but every bit as lovely, interesting, miraculous.
Encountered thirty-three bird species and a Snowshoe Hare (with tick-infested ears, poor critter). Among the birds were a pair of Red-winged Blackbirds in overflight (not ID'd until after I viewed my photos later). Also a papa bluebird and mama Pileated Woodpecker, respectively with fledglings.
And for the first time in a long while, a Red-eyed Vireo posed for me.
Beech Hill List
Beginning at 7:51 a.m., I hiked all trails.
1. Red-eyed Vireo**
2. Ovenbird
3. Northern Cardinal** (v)
4. Black-throated Green Warbler (v)
5. Hermit Thrush (v)
6. American Crow*
7. Veery
8. Hairy Woodpecker
9. American Redstart** (v)
10. Chestnut-sided Warbler
11. Gray Catbird
12. Common Yellowthroat
13. American Goldfinch (v)
14. Black-and-white Warbler
15. Black-capped Chickadee**
16. Eastern Towhee
17. Yellow Warbler
18. Pileated Woodpecker
19. Song Sparrow
20. Cedar Waxwing
21. Purple Finch (v)
22. Field Sparrow (v)
23. Red-winged Blackbird
24. Prairie Warbler
25. American Robin
26. White-breasted Nuthatch
27. Turkey Vulture
28. Tufted Titmouse (v)
29. Eastern Phoebe
30. Eastern Bluebird
31. Savannah Sparrow
32. Eastern Wood-pewee (v)
33. Brown Creeper (v)
Elsewhere
34. Herring Gull
35. European Starling
36. House Sparrow
Mammals
Eastern Chipmunk
Snowshoe Hare
(v) Voice only
*Also elsewhere
**Voice only elsewhere
†First-of-year