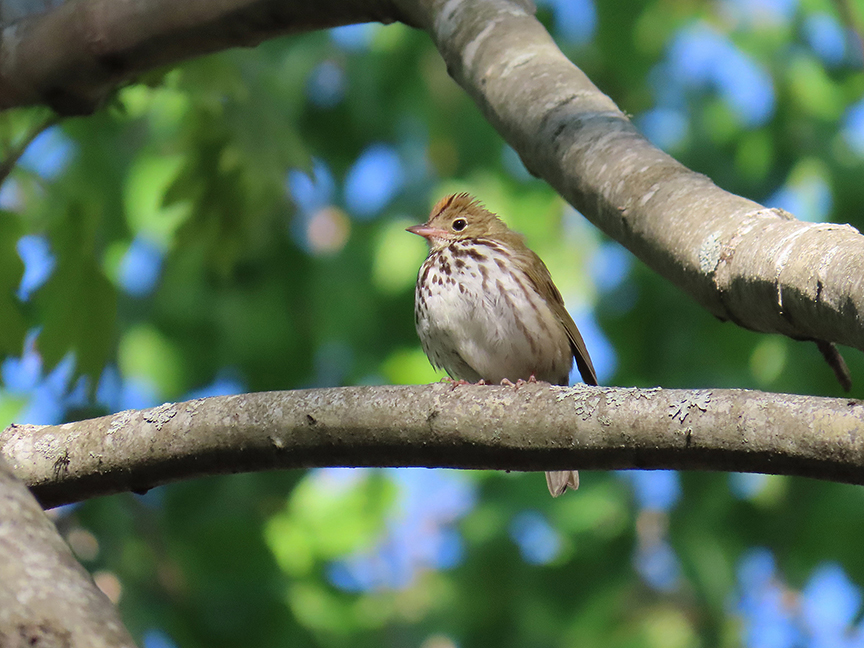 'Tis the season of the Ovenbird. This perky little terrestrial-nesting warbler—with his stylish orange mohawk—nests in a dutch-oven-style nest of leaves on the sun-dappled forest floor and declares its existence from a tree limb twenty or thirty feet above: Teacher, teacher, teacher, teacher, teacher!
They also chase each other with great speed, zipping between trunks, a frantic sort of demonstration of their territorial imperative. But mostly, these mid-May days, their voices echo loudly in the woodlands.
Otherwise notable this lovely (if nippy) morning: a first-of-hill Ruby-throated Hummingbird. Such a fun time of year.
Beech Hill List
Beginning at 6:18 a.m. sun time (7:18 DST), I hiked all trails.
1. White-breasted Nuthatch (v)
2. Ovenbird**
3. Black-throated Green Warbler** (v)
4. Brown Creeper (v)
5. Song Sparrow
6. American Goldfinch
7. Black-and-white Warbler**
8. Gray Catbird
9. Red-bellied Woodpecker** (v)
10. Eastern Towhee
11. Chestnut-sided Warbler
12. Wood Thrush (v)
13. Hairy Woodpecker (v)
14. Pileated Woodpecker (v)
15. Black-capped Chickadee
16. Red-eyed Vireo (v)
17. Nashville Warbler (v)
18. Common Yellowthroat (v)
19. American Crow*
20. Black-throated Blue Warbler
21. Yellow-rumped Warbler
22. White-throated Sparrow
23. Field Sparrow (v)
24. Yellow Warbler (v)
25. Mourning Dove* (v)
26. American Redstart (v)
27. Ruby-throated Hummingbird
28. Chipping Sparrow
29. American Robin*
30. Eastern Bluebird
31. Northern Parula* (v)
32. Eastern Phoebe**
33. Savannah Sparrow
34. Red-breasted Nuthatch (v)
35. Tufted Titmouse (v)
Elsewhere
36. Herring Gull
(v) Voice only
*Also elsewhere
**Voice only elsewhere
†First-of-year
Tags: American crow, American goldfinch, American redstart, American robin, black-and-white warbler, black-capped chickadee, black-throated blue warbler, black-throated green warbler, brown creeper, chestnut-sided warbler, chipping sparrow, common yellowthroat, eastern bluebird, eastern phoebe, eastern towhee, field sparrow, gray catbird, hairy woodpecker, herring gull, mourning dove, Nashville warbler, northern parula, ovenbird, pileated woodpecker, red-bellied woodpecker, red-breasted nuthatch, red-eyed vireo, ruby-throated hummingbird, savannah sparrow, song sparrow, tufted titmouse, white-breasted nuthatch, white-throated sparrow, wood thrush, yellow warbler, yellow-rumped warbler