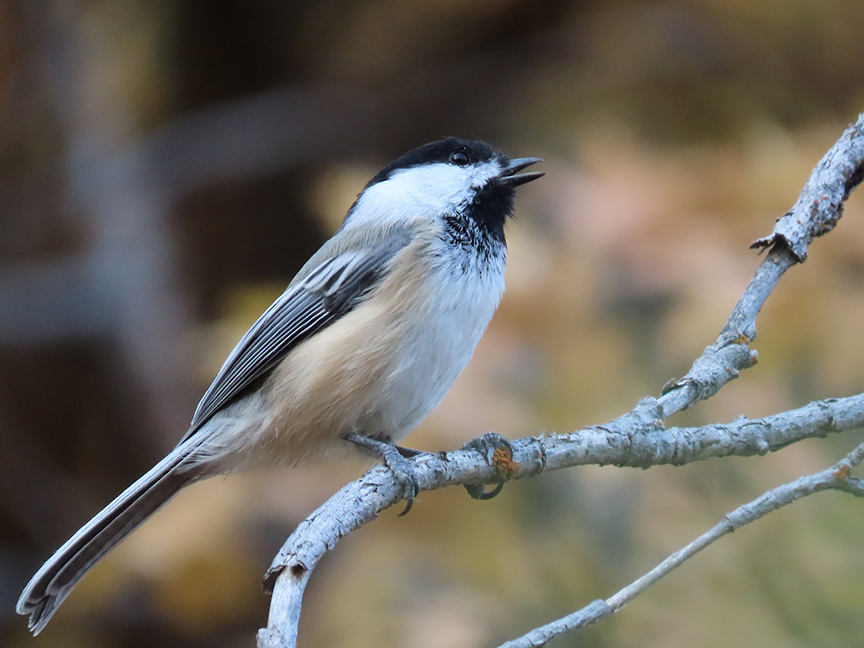 Within ten or fifteen minutes of hitting the trail this morning, I could tell last night brought fair migration winds. I say "fair" winds because of the good variety of species I spied early—Western Tanager, Western Wood-pewee, Yellow-rumped Warbler, and a few other species-in-a-hurry that I couldn't ID. Has me psyched about the days to come.
But the sweetest thing about my hike with dog this cool morning was the company of Black-capped Chickadees. What with the recent spate of western fires, a hurricane making landfall, and other dramatic climate events, it'd be easy to fall into a funk. But there they are, the chickadees, their optimistic-sounding voices as they check in with each other—voices so matter-of-fact and unworried that they attract other little silent species moving through the foliage.
One even flew within inches of my head today. I thought it might land on my hat, but it didn't. Maybe someday.
Grandeur Peak Area List
Beginning at 8:11 a.m., I hiked a few hundred feet up a mountain.
1. Black-billed Magpie* (v)
2. House Finch*
3. Black-capped Chickadee**
4. Woodhouse's Scrub-jay
5. Black-chinned Hummingbird
6. Blue-gray Gnatcatcher
7. Spotted Towhee
8. Northern Flicker**
9. Western Tanager
10. Downy Woodpecker
11. Sparrow (sp)
12. Western Wood-pewee
13. American Robin
14. Yellow-rumped Warbler
15. Lesser Goldfinch*
16. Broad-tailed Hummingbird
17. House Wren
Elsewhere
18. California Quail
Mammals
Red Squirrel (v)
(v) Voice only
*Also elsewhere
**Voice only elsewhere