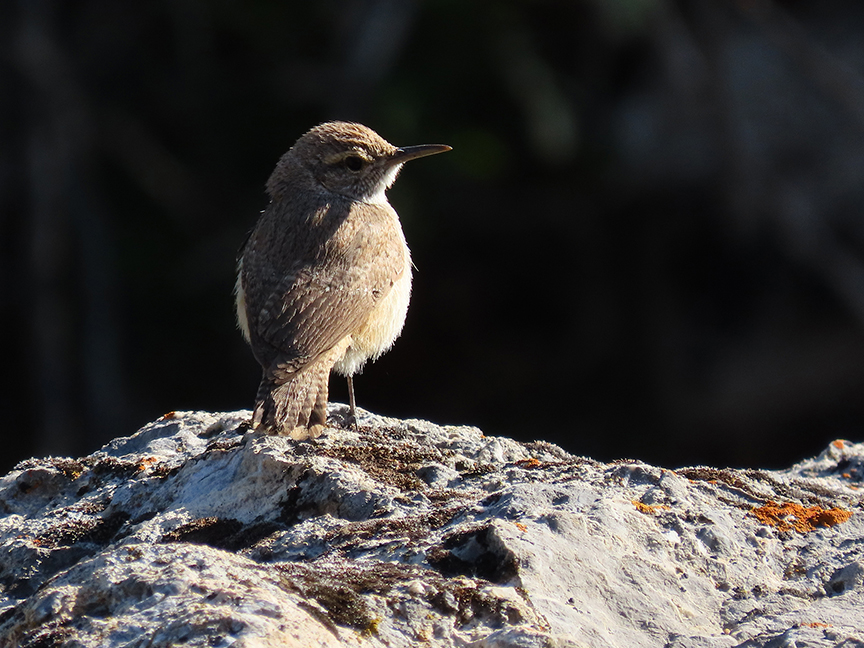 Good news and not so bad news this morning: Jack seems fine and was eager to hike this morning; not nearly the excitement of yesterday, bird-wise, but still an enjoyable excursion.
Cooler, breezier, mostly clear. The Rock Wrens are still in the little old quarry, so maybe they'll nest there this year. Gnatcatchers all over the place, with those antic, highly entertaining songs and calls of theirs. The usual spring warblers, Warbling Vireos, chippies, a Cooper's Hawk.
Dog really dug our hike, and so did I.
Grandeur Peak Area List
Beginning at 7:05 a.m. (8:05 MDT), I hiked a few hundred feet up a mountain.
1. Lazuli Bunting
2. American Robin*
3. Black-headed Grosbeak
4. Spotted Towhee
5. Black-chinned Hummingbird
6. Blue-gray Gnatcatcher
7. Woodhouse's Scrub-jay
8. Rock Wren
9. House Finch (v)
10. Black-capped Chickadee
11. Warbling Vireo (v)
12. Chipping Sparrow
13. Cooper's Hawk
14. Virginia's Warbler
15. Black-throated Gray Warbler (v)
16. Orange-crowned Warbler (v)
17. California Quail (v)
18. Northern Flicker (v)
19. Lesser Goldfinch** (v)
Elsewhere
20. Song Sparrow (v)
21. Black-billed Magpie
Mammals
Red Squirrel
(v) Voice only
*Also elsewhere
**Voice only elsewhere