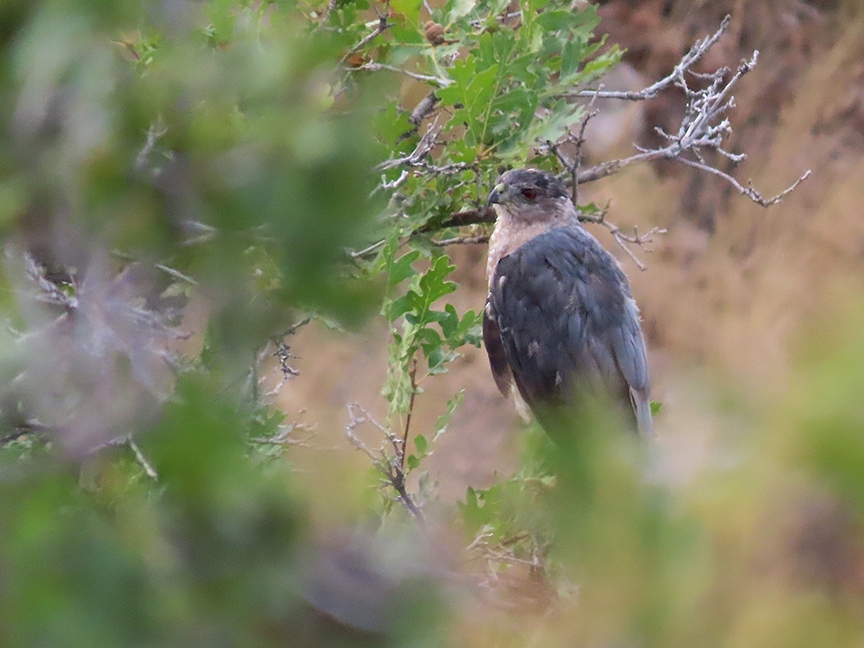 Sneaking down to the bluff this morning—the bluff overlooking the basin, a regular first stop on my daily hike with dog—I surprised a little Sharp-shinned Hawk perched in a stubby scrub oak. The hawk flew back toward the mountain but didn't top the rise, I saw, so I crept toward it along a deer trail and spied it perched in another scrub oak not too far away.
Had I not been sneaking, the hawk would've flow long before I got within twelve or fifteen feet of it. Had I not followed its flight, I wouldn't have noticed its failure to top the rise. Had I not bothered to creep toward it (despite the distance), I'd've never got its photo.
A birder's instinct, I reckon.
Grandeur Peak Area List
Beginning at 7:59 a.m., I hiked a few hundred feet up a mountain.
1. Mourning Dove*
2. House Finch*
3. Swallow (sp)
4. Woodhouse's Scrub-jay**
5. Black-billed Magpie*
6. Broad-tailed Hummingbird
7. Western Kingbird
8. Spotted Towhee
9. Sharp-shinned Hawk
10. Black-capped Chickadee
11. Blue-gray Gnatcatcher
12. Broad-tailed Hummingbird
Elsewhere
13. Rock Pigeon
14. Eurasian Collared Dove (v)
15. Lesser Goldfinch
16. California Quail
Mammals
Mountain Cottontail
(v) Voice only
*Also elsewhere
**Voice only elsewhere