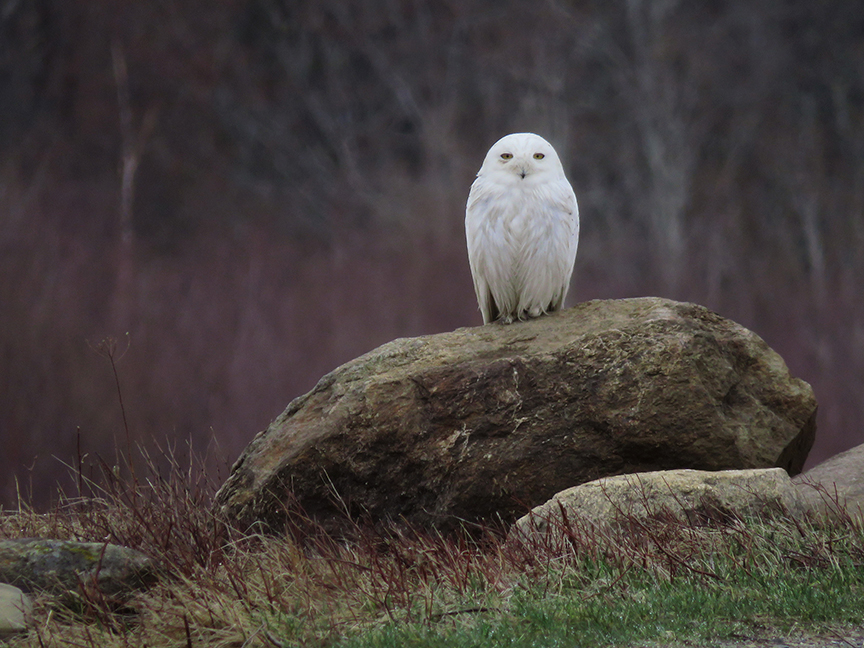 Foggy again early, but it burned off into an overcast pretty quickly. Hit the hill with Jack and right away started listing birds. A lot of birds. Had nearly a score before we reached the summit.
One of those was quite apparent: a Snowy Owl, a male far down the eastern slope. Hard to miss the little white snowman against the snowless landscape. I feel sure this was the same bird I saw two days ago—and likely the bird the crows were mobbing in the fog yesterday, after all—but he looked a lot dryer and happier.
Had a lot of interesting birds, including a first singing Savannah Sparrow and a first-of-year Brown Thrasher (which I heard before spotting). Another towhee, but still no glimpse. Bluebirds and Tree Swallows and yellow-rumps and Palm Warblers.
All in all a wondrous hour's walk this morning.
Beech Hill List
Beginning at 8:15 a.m., I hiked the open trail (and then some).
1. Song Sparrow**
2. American Goldfinch (v)
3. White-throated Sparrow (v)
4. Purple Finch (v)
5. Brown-headed Cowbird
6. American Robin (v)
7. Downy Woodpecker (v)
8. Northern Cardinal** (v)
9. Eastern Phoebe**
10. Tufted Titmouse
11. Black-capped Chickadee**
12. Chipping Sparrow**
13. Field Sparrow
14. Blue Jay** (v)
15. Northern Flicker (v)
16. Yellow-rumped Warbler
17. Herring Gull* (v)
18. American Crow*
19. Common Raven (v)
20. Palm Warbler
21. Tree Swallow
22. Eastern Bluebird
23. Snowy Owl
24. Eastern Towhee (v)
25. American Kestrel
26. Brown Thrasher†
27. Double-crested Cormorant
28. Savannah Sparrow
29. White-breasted Nuthatch (v)
30. Pileated Woodpecker

Elsewhere
31. House Finch (v)
32. Mourning Dove
33. House Sparrow (v)
34. European Starling
35. Common Grackle
36. Rock Pigeon
v = Voice only
*Also elsewhere
**Voice only elsewhere
†First-of-year bird