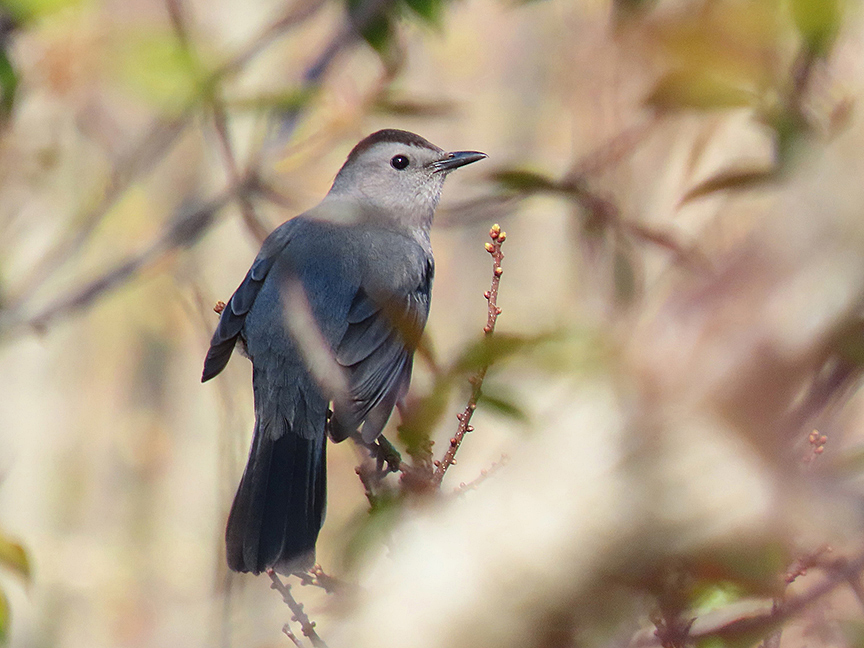 Had a good sleep and awoke to a semi-foggy yet rather warm morning. Checked online and found that the overnight wind direction was south. Decided 12 May might be an auspicious day.
And, by golly, it sorta was: most species in Maine so far, along with four first-of-year birds—and ten warblers total. (Three of the warblers were first of year.) Also got my first photo of a catbird, which was something of a thrill. We also surprised a White-tailed Deer down the lower wooded trail, and I got to watch how they fly in great bounds through the understory (unlike the Mule Deers' funny hop through the scrub.
Back home, had another few nice looks—including a turkey in the west yard. Plus, as a find bonus, I rode more than eight miles on my bicycle (first ride since I lived here last—lovely).
All in all, a very nice day.
Beech Hill List
Beginning at 7:42 a.m., I hiked all trails.
1. Ovenbird**
2. Black-and-white Warbler**
3. Black-throated Green Warbler**
4. Pine Warbler**
5. Northern Parula**
6. American Goldfinch
7. Northern Flicker (v)
8. Chestnut-sided Warbler
9. Black-capped Chickadee
10. Eastern Towhee
11. Blue Jay
12. Gray Catbird
13. American Crow*
14. Tufted Titmouse** (v)
15. Nashville Warbler† (v)
16. Yellow Warbler
17. Song Sparrow
18. Rose-breasted Grosbeak†
19. Common Yellowthroat†
20. American Robin
21. Chipping Sparrow**
22. Northern Cardinal*
23. Eastern Phoebe*
24. Osprey
25. Broad-winged Hawk*
26. Hermit Thrush (v)
27. Field Sparrow
28. White-throated Sparrow
29. Turkey Vulture
30. Palm Warbler
31. American Redstart†
32. Red-winged Blackbird
33. White-breasted Nuthatch
34. Herring Gull*
35. Blue-headed Vireo
Elsewhere
36. Wild Turkey
37. Mourning Dove
38. European Starling
39. Rock Pigeon
Mammals
White-tailed Deer
(v) Voice only
*Also elsewhere
**Voice only elsewhere
†First-of-year
Tags: Ameican crow, American goldfinch, American redstart, American robin, black-and-white warbler, black-capped chickadee, black-throated green warbler, blue jay, blue-headed vireo, broad-winged hawk, chestnut-sided warbler, chipping sparrow, common yellowthroat, eastern phoebe, eastern towhee, field sparrow, gray catbird, hermit thrush, herring gull, Nashville warbler, northern cardinal, northern flicker, northern parula, osprey, ovenbird, palm warbler, pine warbler, red-winged blackbird, rose-breasted grosbeak, song sparrow, tufted titmouse, turkey vulture, white-breasted nuthatch, white-throated sparrow, yellow warbler