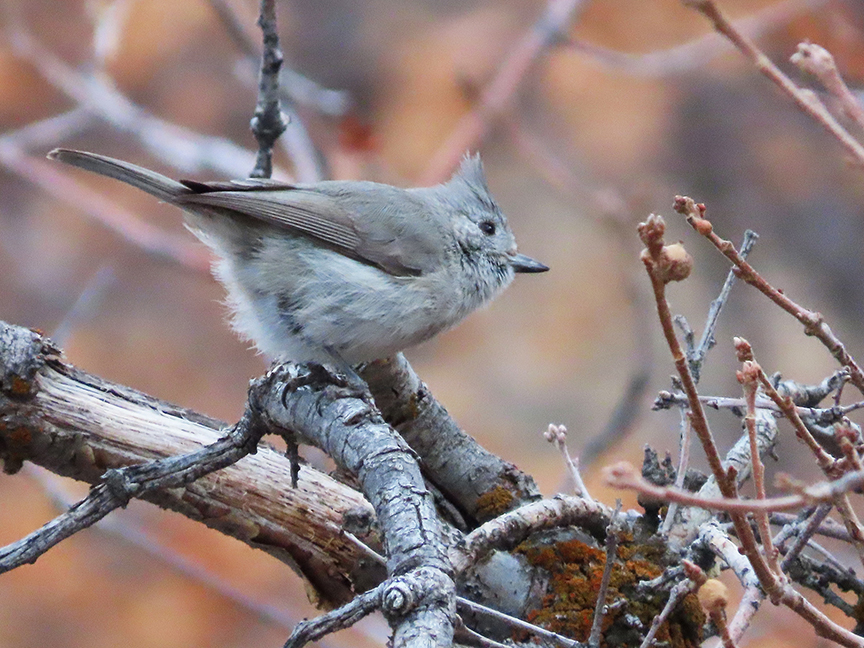 So, I have a thing for the Juniper Titmouse. It took me a while to spot one here over the past 18 months—not until I learned its bubbly, staccato call did I began to observe its behavior, learn its habits. I'm pretty sure, in fact that I've never seen one without first hearing its voice.
So it was a treat to hear that voice at the trailhead this morning, before dog and I had even begun our climb up the switchback. Better yet, it flitted over in our direction (they tend to be rather shy) and posed for photos.
A good Sunday hike (including visits with three groups of hiking friends), and a nice selection of birds. But the highlight happened right at the start.
Grandeur Peak Area List
Beginning at 9:04 a.m. (MST), I hiked several hundred feet up a mountain.
1. Black-billed Magpie*
2. Juniper Titmouse
3. Black-capped Chickadee
4. Spotted Towhee
5. House Finch*
6. Woodhouse's Scrub-jay**
7. Rock Pigeon*
8. Northern Flicker
9. Dark-eyed Junco
10. California Quail (v)
Elsewhere
11. European Starling
12. House Sparrow (v)
13. Golden-crowned Kinglet
14. Mourning Dove
Mammals
Red Squirrel
(v) Voice only
*Also elsewhere
**Voice only elsewhere
Tags: black-billed magpie, black-capped chickadee, California quail, dark-eyed junco, European starling, golden-crowned kinglet, house finch, house sparrow, juniper titmouse, mourning dove, northern flicker, red squirrel, rock pigeon, spotted towhee, Woodhouse's scrub jay