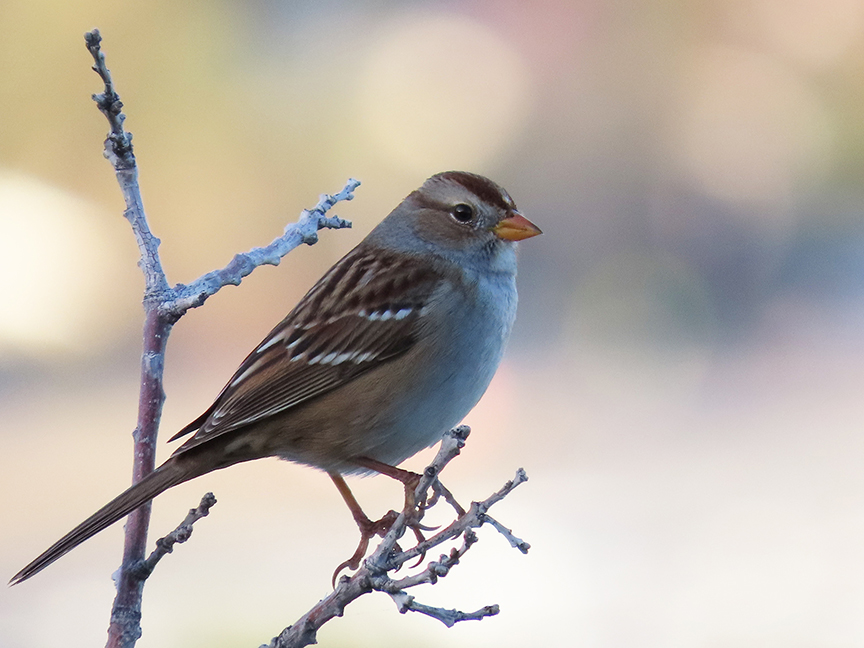 A bit warmer this morning, but a favorable northwest-ish wind, and an interesting sky full of clouds. Hardly any birds for the first five minutes, then—pow!
Most fun for me were two young species, both of which made surprise appearances near the trailhead.
First, I'd thought I heard a sparrow near the little old quarry hole but saw nothing. About a minute later, up popped a young White-crowned Sparrow. Then, soon after that, as I was angling to photograph three magpies, a new bird swept in and perched some forty feet away—a young Cooper's Hawk.
Loved all the other birds, too, of course.)
Grandeur Peak Area List
Beginning at 8:28 a.m., I hiked a few hundred feet up a mountain.
1. Black-billed Magpie**
2. Northern Flicker*
3. Woodhouse's Scrub-jay
4. Spotted Towhee
5. Dark-eyed Junco
6. House Finch**
7. American Robin
8. White-crowned Sparrow
9. Cooper's Hawk
10. Ruby-crowned Kinglet
11. Lesser Goldfinch** (v)
12. Black-capped Chickadee
13. Pine Siskin (v)
14. Mourning Dove
15. Yellow-rumped Warbler (v)
Mammals
Red Squirrel (v)
(v) Voice only
*Also elsewhere
**Voice only elsewhere
Tags: American robin, black-billed magpie, cooper's hawk, dark-eyed junco, house finch, lesser goldfinch, mourning dove, northern flicker, pine siskin, red squirrel, ruby-crowned kinglet, spotted towhee, white-crowned sparrow, Woodhouse's scrub jay, yellow-rumped warbler