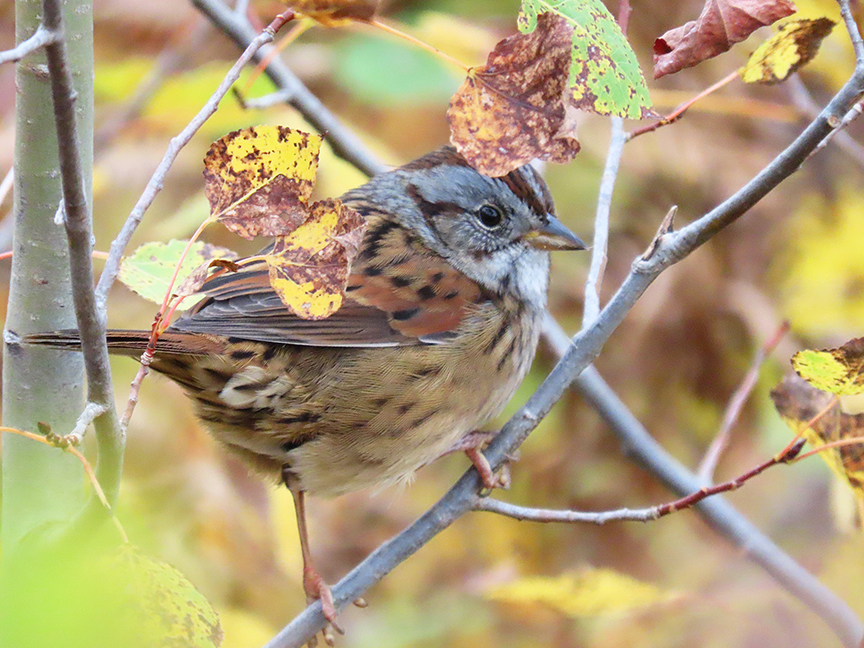 Chilly air this morning, but mostly calm, with little bit of sun early, then overcast. Captain Jack and I loved this day—loved our hike. Both us old guys. No denying it.
Jack had smells—loads and loads of smells—to investigate. He plunged his face in the grass, he raised his nose into the air. I looked and listened for birds. We both found the objects of our interest. In my case, woodpeckers, finches, corvids, many yellow-rumps, miscellaneous other species—and sparrows.
About thirty White-throated Sparrows in fact. Tons of that species moving through. A couple or three towhees. A couple or three Song Sparrows. A couple or three Swamp Sparrows. I only see the latter on the hill during migration—and this year seems to have been fruitful for the species.
I love warblers, I love hawks, I love thrushes, I love a lot of bird families—among them (dearly) sparrows.
Beech Hill List
Beginning at 8:06 a.m., I hiked all trails.
1. White-breasted Nuthatch (v)
2. American Robin
3. Yellow-rumped Warbler
4. Hermit Thrush
5. Black-capped Chickadee
6. American Crow
7. Eastern Towhee
8. White-throated Sparrow
9. Red-bellied Woodpecker (v)
10. Blue Jay (v)
11. Red-breasted Nuthatch (v)
12. Eastern Phoebe
13. Purple Finch (v)
14. Song Sparrow
15. Gray Catbird (v)
16. American Goldfinch
17. Swamp Sparrow
18. Dark-eyed Junco
19. Northern Flicker
20. Ruby-crowned Kinglet (v)
21. Hairy Woodpecker
Mammals
Eastern Chipmunk
(v) Voice only
*Also elsewhere
**Voice only elsewhere
†First-of-year
Tags: American crow, American goldfinch, American robin, black-capped chickadee, blue jay, dark-eyed junco, eastern chipmunk, eastern phoebe, eastern towhee, gray catbird, hairy woodpecker, hermit thrush, northern flicker, purple finch, red-bellied woodpecker, red-breasted nuthatch, ruby-crowned kinglet, song sparrow, swamp sparrow, white-breasted nuthatch, white-throated sparrow, yellow-rumped warbler