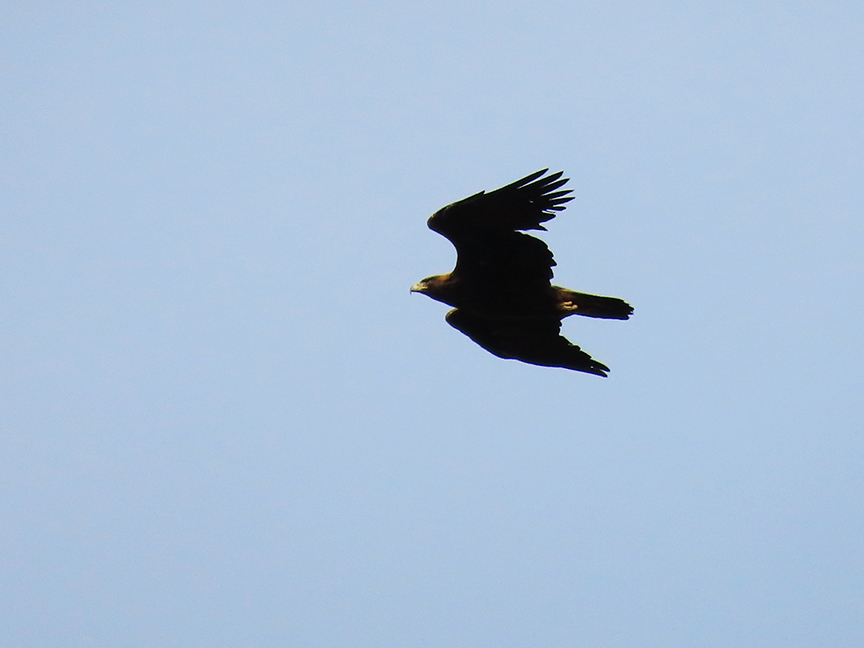 The equinox. Autumn began today about 9:30 a.m. (MDT). Coincidentally, a stout wind blew, and the leaves of oak and maple (especially maple) were blowing around like little birds. I could smell fall in the air.
I could also smell smoke in the air—and saw some billowing puffs rising in the southeast above the Millcreek Ridge. I'd assumed at first the fire burned in Millcreek Canyon, but it turned out to be Neff's Canyon, next one over. It'd started as about a 10 acre fire but by late afternoon had grown to sixty. Planes and helicopters in the air.
Also in the air: a pair of golden eagles. They flew south, slowly, against the wind, their winds held in place, never moving.
Grandeur Peak Area List
Beginning at 8:18 a.m., I hiked a few hundred feet up a mountain.
1. Red-breasted Nuthatch
2. Black-billed Magpie* (v)
3. House Finch*
4. Woodhouse's Scrub-jay
5. Pine Siskin (v)
6. Blue-gray Gnatcatcher
7. Spotted Towhee
8. Northern Flicker** (v)
9. Black-capped Chickadee
10. Lesser Goldfinch*
11. Hummingbird (sp)
12. Golden Eagle
13. Mountain Chickadee
14. Yellow-rumped Warbler
15. Mourning Dove
Mammals
Red squirrel (v)
(v) Voice only
*Also elsewhere
**Voice only elsewhere
Tags: black-billed magpie, black-capped chickadee, blue-gray gnatcatcher, golden eagle, house finch, hummingbird, lesser goldfinch, mountain chickadee, mourning dove, northern flicker, pine siskin, red squirrel, red-breasted nuthatch, spotted towhee, Woodhouse's scrub jay, yellow-rumped warbler