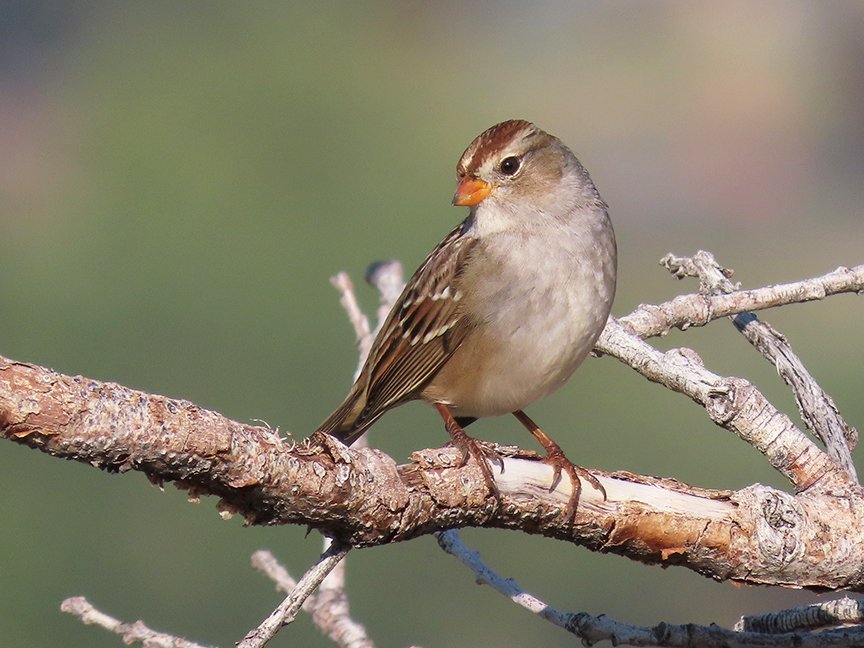 A nice hike with dog this morning. A little nippy in the early shade—50s (F)—but a nice selection of birds, only a couple of which I missed identifying. Somehow I get the feeling it's nearly fall.
Managed a nice sparrow sighting on our return. First heard it's tseet! note, then saw it flit away, then followed in that direction and, rounding a curve, ended up with a nice view of my first-of-Utah White-throated Sparrow (immature).
(I'd thought the most interesting thing about today would be the lack of gnatcatchers, but I heard one across the little gulch at the end of our hike.)
Grandeur Peak Area List
Beginning at 8:20 a.m., I hiked a few hundred feet up a mountain.
1. House Finch*
2. Black-capped Chickadee
3. Northern Flicker
4. Pine Siskin (v)
5. Woodhouse's Scrub-jay
6. Spotted Towhee
7. Black-chinned Hummingbird
8. Yellow-rumped Warbler
9. Downy Woodpecker
10. Black-billed Magpie* (v)
11. American Robin (v)
12. Rock Pigeon
13. Eurasian Collared Dove**
14. White-crowned Sparrow†
15. Lesser Goldfinch (v)
16. Blue-gray Gnatcatcher (v)
(v) Voice only
*Also elsewhere
**Voice only elsewhere
†First-of-year bird
Tags: American robin, black-billed magpie, black-capped chickadee, black-chinned hummingbird, blue-gray gnatcatcher, downy woodpecker, Eurasian collared dove, house finch, lesser goldfinch, northern flicker, pine siskin, rock pigeon, spotted towhee, white-crowned sparrow, Woodhouse's scrub jay, yellow-rumped warbler