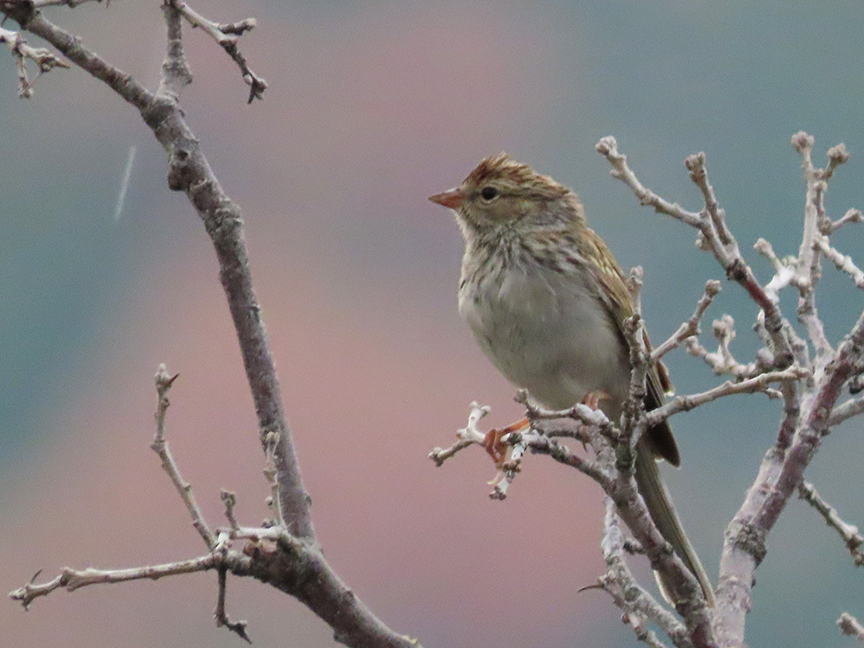 It wasn't a lot, but it was rain. The morning started off with a trace of drizzle, then the drizzle abated, and the weather radar showed a rain-free channel for a while—but that rain would likely follow. And afternoon thundershowers were possible.
An overcast filled much of the sky, and I could feel humidity for the first time in a while. Quite a few birds flitted about, and my hike with dog generally gave me the usual thrills. But the most thrilling moment came on our return, when I'd just seen a gang of magpies on the bluff, and the drizzle returned. I heard it before I felt it, but there it was. And then a sparrow popped up and posed.
The drizzle didn't last very long, but it doesn't take much to trigger a spark of hope these days.
Grandeur Peak Area List
Beginning at 8:16 a.m., I hiked a few hundred feet up a mountain.
1. House Finch*
2. Black-capped Chickadee
3. Northern Flicker**
4. Pine Siskin
5. Woodhouse's Scrub-jay**
6. Blue-gray Gnatcatcher
7. Spotted Towhee
8. Lesser Goldfinch*
9. Black-billed Magpie*
10. Chipping Sparrow
Elsewhere
11. Eurasian Collared Dove (v)
12. Song Sparrow (v)
13. California Quail
14. House Sparrow
Mammals
Red Squirrel
Gray Squirrel
(v) Voice only
*Also elsewhere
**Voice only elsewhere
Tags: black-billed magpie, black-capped chickadee, blue-gray gnatcatcher, California quail, chipping sparrow, Eurasian collared dove, gray squirrel, house finch, house sparrow, lesser goldfinch, northern flicker, pine siskin, red squirrel, song sparrow, spotted towhee, Woodhouse's scrub jay