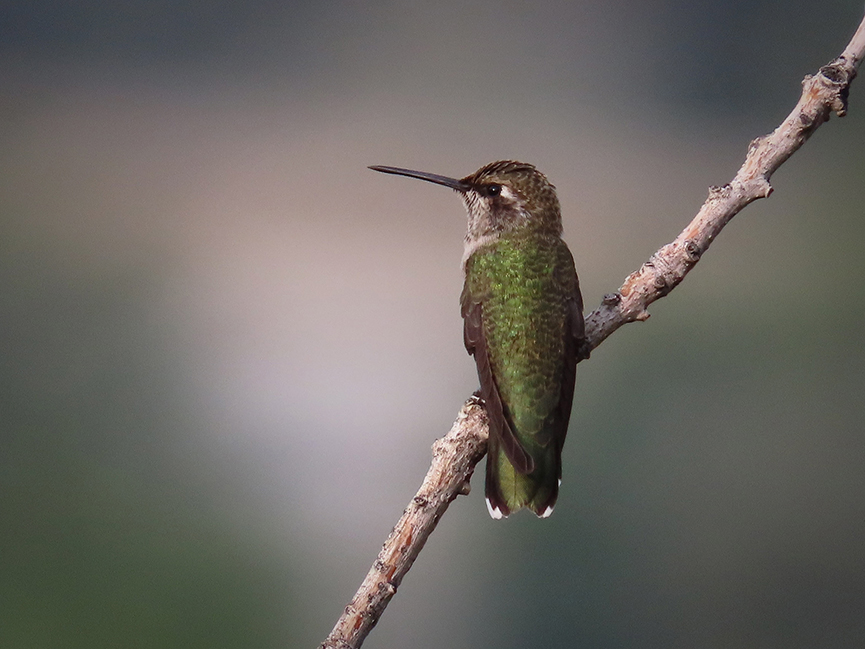 Got a whiff of smoke this morning on my hike with dog. A haze hovered over the basin. The fires in California are alarming, to say the least—as is the local drought. Thought we'd be getting some rain tomorrow, but apparently not. Going on two months without significant rain.
Perhaps that's why things continue to be quiet up the foothills trails. Mostly the usual suspects this morning, bu also a couple of birds whose calls I didn't recognize. One in particular—with a semi-harsh, semi-musical chip-note—flitted out of a juniper and showed itself to be warbler-sized with flashes of yellow. Tried to track it down but didn't see it again. Another little chattery bird, too, I couldn't sneak up on.
"Dips" in birding lingo usually mean you've heard of a rare or interesting sighting and go looking for it but fail to find it—i.e., you "dipped" on the bird. In my mind the same applies in the shorter term: you see or hear something curious but don't end up getting a good look. Happens a lot.
But also, on occasion, you stumble onto a pretty great sighting without even trying. It all works out in the end, I suppose.
No smoky smell later in the day. I hope at least the West Coast gets a little rain.
Grandeur Peak Area List
Beginning at 8:13 a.m., I hiked a few hundred feet up a mountain.
1. House Finch*
2. Woodhouse's Scrub-jay
3. Pine Siskin
4. American Robin**
5. Black-chinned Hummingbird
6. Blue-gray Gnatcatcher
7. Spotted Towhee
8. Northern Flicker**
9. Rock Pigeon*
10. Black-capped Chickadee
11. Wood-warbler (sp)
12. Lesser Goldfinch** (v)
13. Black-billed Magpie*
14. Red-tailed Hawk
Elsewhere
15. European Starling
16. American Crow
17. Mourning Dove
18. Song Sparrow
Mammals
Red Squirrel (v)
(v) Voice only
*Also elsewhere
**Voice only elsewhere
Tags: American crow, American robin, black-billed magpie, black-capped chickadee, black-chinned hummingbird, blue-gray gnatcatcher, European starling, house finch, lesser goldfinch, mourning dove, northern flicker, pine sskin, red squirrel, red-tailed hawk, rock pigeon, song sparrow, spotted towhee, wood-warbler (sp), Woodhouse's scrub jay