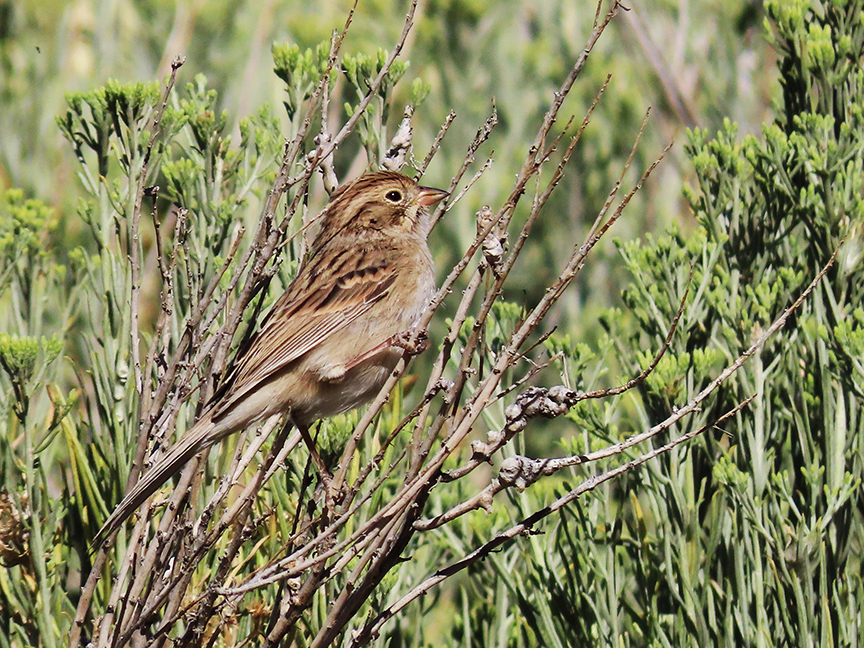 Still having a little trouble with Utah sparrow IDs. The varieties are plentiful, but few are familiar species I know from back in Maine (e.g., Chipping Sparrow, Song Sparrow). Black-throated Sparrow was an easy lifer back in spring, and I've come to know the Brewer's Sparrow fairly well, I think.
Saw a pair of Brewer's at the end of today's hike with dog. (I think one was a youngster, not sure.)
Yesterday I got a photo of what looked like a cross between a Brewer's and a Clay-colored Sparrow—but the latter would've been uncommon. (Perhaps a youngster. Got no ID.) But there are plenty more that I have yet to see.
Grandeur Peak Area List
Beginning at 7:59 a.m., I hiked a few hundred feet up a mountain.
1. Rock Pigeon
2. Blue-gray Gnatcatcher
3. Woodhouse's Scrub-jay
4. Spotted Towhee
5. Black-billed Magpie*
6. Broad-tailed Hummingbird
7. Downy Woodpecker (v)
8. Black-capped Chickadee
9. House Finch*
10. Mourning Dove
11. Brewer's Sparrow
12. Lesser Goldfinch*
Elsewhere
13. Eurasian Collared Dove (v)
14. California Quail
Mammals
Rock Squirrel
(v) Voice only
*Also elsewhere
**Voice only elsewhere
Tags: black-billed magpie, black-capped chickadee, blue-gray gnatcatcher, Brewer's sparrow, broad-tailedh ummingbird, California quail, downy woodpecker, Eurasian collared dove, house finch, lesser goldfinch, mourning dove, rock pigeon, rock squirrel, spotted towhee, Woodhouse's scrub-jay