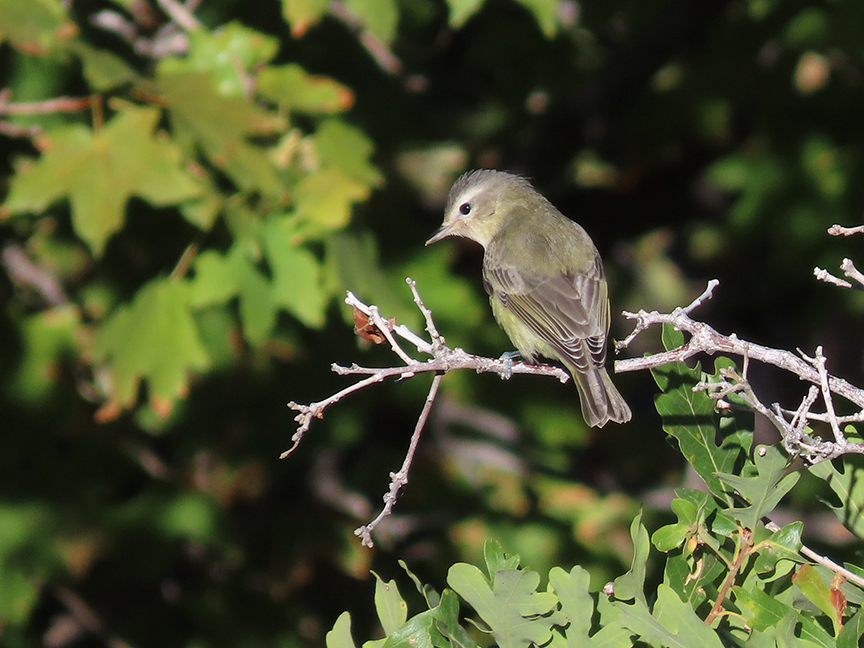 I thought yesterday was pretty chilly for August. This morning was chillier—in the 40s (F) in the mountain shade when dog and I headed up the trailhead. I felt both a chill and a thrill, thinking the nip in the air might provide some interesting bird sightings, as various species got to thinking the equivalent of, "O.K., here we go."
Although our hike began slow, I ended up not being disappointed.
Within a minute of my saying to Jack, "Well, this has been kind of a bust," a Warbling Vireo popped up in a scrub-oak ahead of us. (Watched it snag a caterpillar.) Then along came a couple dozen House Finches, numerous gnatcatchers, and a Brewer's Sparrow or two. On the last leg of our return, I even got to watch an Olive-sided Flycatcher, well, catching flies.
Finally I said to Jack—summing up our hike as we approached the trailhead—"From 'zip' to 'ZIPPO'!"
Grandeur Peak Area List
Beginning at 8:10 a.m., I hiked a few hundred feet up a mountain.
1. House Finch*
2. Blue-gray Gnatcatcher
3. Woodhouse's Scrub-jay
4. Spotted Towhee
5. Black-chinned Hummingbird
6. Black-billed Magpie**
7. Lesser Goldfinch*
8. Downy Woodpecker
9. Black-capped Chickadee
10. Broad-tailed Hummingbird*
11. Warbling Vireo
12. Mourning Dove
13. Brewer's Sparrow
14. Olive-sided Flycatcher
Elsewhere
15. California Quail (v)
Mammals
Mountain Cottontail
Rock Squirrel
(v) Voice only
*Also elsewhere
**Voice only elsewhere
Tags: black-billed magpie, black-capped chickadee, black-chinned hummingbird, blue-gray gnatcatcher, Brewer's sparrow, broad-tailed hummingbird, California quail, downy woodpecker, house finch, lesser goldfinch, mountain cottontail, mourning dove, olive-sided flycatcher, rock squirrel, spotted towhee, warbling vireo, Woodhouse's scrub jay