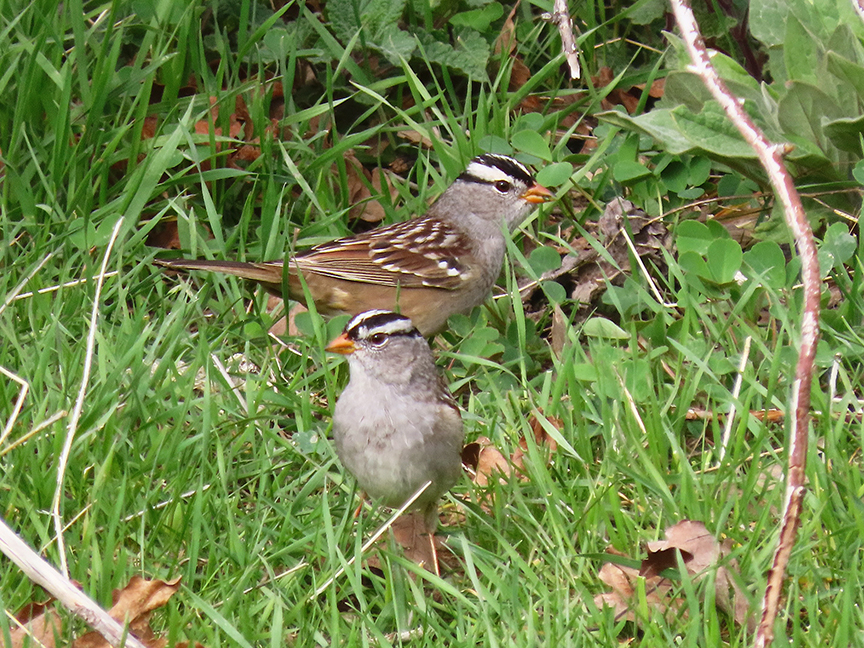 While dog and I were hiking this oddly hazy, warmish, briefly sunny morning, I encountered three species of sparrow: Song Sparrow, Spotted Towhee, White-crowned Sparrow.
The first was a single bird I heard singing down near the trailhead. The second—towhees are a large sparrow—was the first of about ten representatives of the species. The third, were a pair of White-throated Sparrows, the first I've seen this year.
In fact, these two were not the first white-throats (I happened to hear one as we started up the trail), but they were gracious enough to pose for photos.
Grandeur Peak Area List
At 8:04 a.m., sun time, I hiked a few hundred feet up a mountain.
1. American Robin*
2. White-crowned Sparrow†
3. Song Sparrow** (v)
4. Pine Siskin**
5. California Quail** (v)
6. Spotted Towhee
7. House Finch**
8. Red-tailed Hawk
9. Woodhouse's Scrub-jay
10. Northern Flicker (v)
11. Blue-gray Gnatcatcher
12. Cooper's Hawk
13. Black-capped Chickadee (v)
Elsewhere
14. Eurasian Collared-dove
15. House Sparrow (v)
26. Lesser Goldfinch
Mammals
Mule Deer
(v) Voice only
*Also elsewhere
**Voice only elsewhere
Tags: American robin, black-capped chickadee, California quail, cooper's hawk, Eurasian collared dove, house finch, house sparrow, lesser goldfinch, mule deer, northern flicker, pine siskin, red-tailed hawk, song sparrow, spotted towhee, white-crowned sparrow, Woodhouse's scrub jay