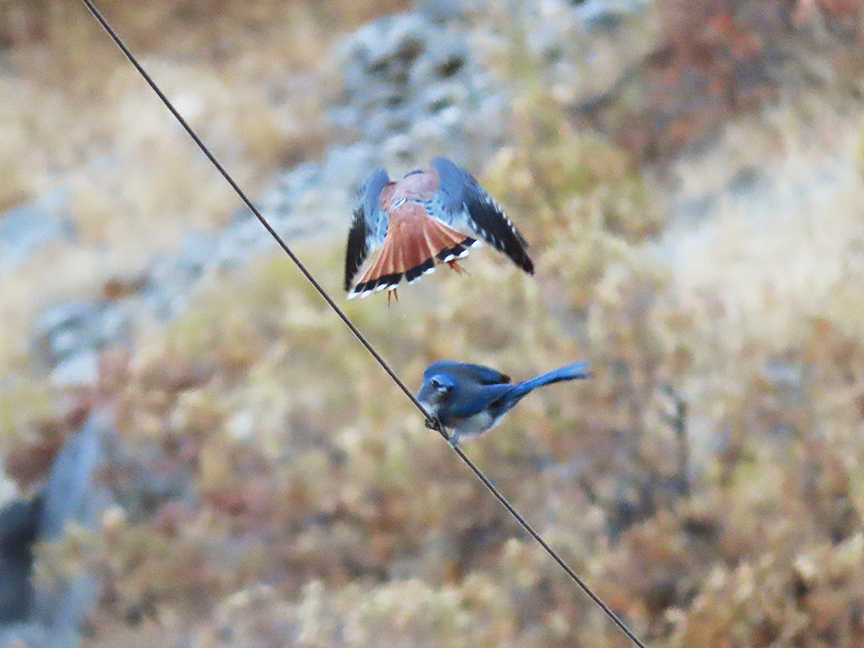 Just as dog and I began our morning hike, I spied an American Kestrel zipping over to a utility line just above the trail ahead of us. While I was angling for a photo, a Woodhouse's Scrub-jay showed up, alighting just beyond the kestrel. Just as I began to snap some pics, and the jay lunged at the little falcon, which popped up and veered away.
Otherwise the usual suspects (including a Mountain Chickadee). Will be interesting to see how the wildlife activity changes after our forecast rain and snow and cold arrives this weekend sometime.
Grandeur Peak Area List
Beginning at 8:15 a.m. (MST), I hiked a few hundred feet up a mountain.
1. Woodhouse's Scrub-jay
2. Northern Flicker
3. House Finch*
4. American Kestrel
5. Spotted Towhee
6. Black-billed Magpie**
7. Dark-eyed Junco
8. Mountain Chickadee
9. Pine Siskin (v)
10. American Robin
11. Black-capped Chickadee
12. Lesser Goldfinch
13. Song Sparrow (v)
Elsewhere
14. Rock Pigeon
(v) Voice only
*Also elsewhere
**Voice only elsewhere
Mammals
Mountain Cottontail
Red Squirrel (v)
Tags: American kestrel, American robin, black-billed magpie, black-capped chickadee, dark-eyed junco, hosue finch, lesser goldfinch, mountain chickadee, mountain cottontail, northern flicker, pine siskin, red squirrel, rock pigeon, song sparrow, spotted towhe, Woodhouse's scrub jay