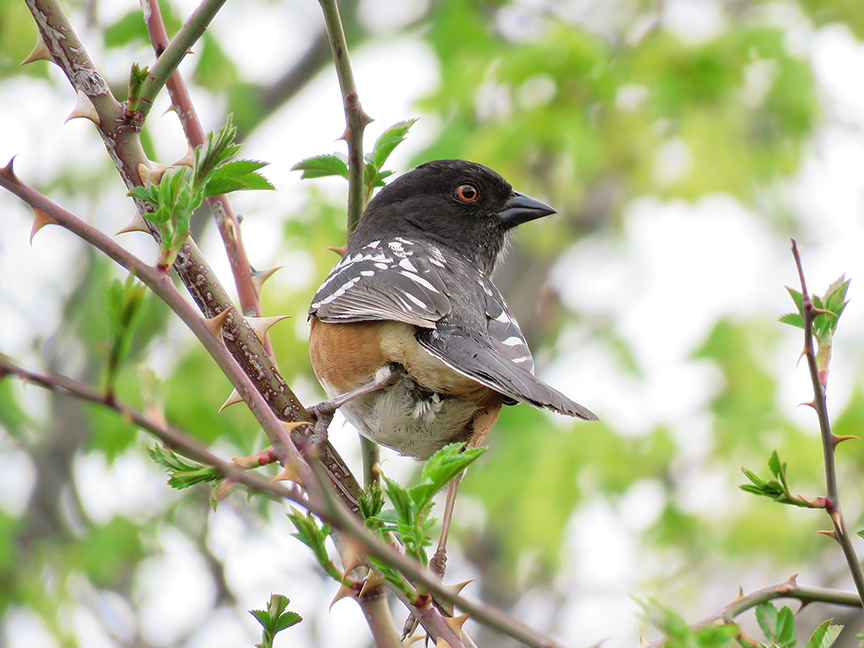 On this morning's short, sweet hike with dog, I followed the voice of a Yellow Warbler (without seeing the source), heard the voice of a Northern Parula (I'm sure of it, and they do occasionally migrate through this region), and spied my first ever Green-tailed Towhee.
A handsome bird, that green-tail is. Alas I got no photo. So here's a pic of a regular ol' Spotted Towhee—the one that chased away my lifer.
Grandeur Peak Area List
Beginning at 8:30 a.m., I hiked several hundred feet up a mountain.
1. American Robin*
2. California Quail (v)
3. House Finch*
4. Woodhouse's Scrub-jay**
5. Black-billed Magpie*
6. Spotted Towhee
7. Black-capped Chickadee**
8. Pine Siskin (v)
9. Lesser Goldfinch (v)
10. Chipping Sparrow
11. Yellow Warbler† (v)
12. Northern Parula† (v)
13. Orange-crowned Warbler
14. Green-tailed Towhee‡
15. Song Sparrow* (v)
Elsewhere
16. Eurasian Collared Dove
17. European Starling
18. House Sparrow (v)
19. Rock Pigeon
Mammals
Mule Deer
(v) Voice only
*Also elsewhere
**Voice only elsewhere
†First-of-year bird
‡Lifer
Tags: American robin, black-billed magpie, black-capped chickadee, California quail, chipping sparrow, Eurasian collared dove, European starling, green-tailed towhee, house finch, house sparrow, lesser goldfich, mule deer, northern parula, Orange-crowned Warbler, pine siskin, rock pigeon, song sparrow, spotted towhee, Woodhouse's scrub jay, yellow warbler