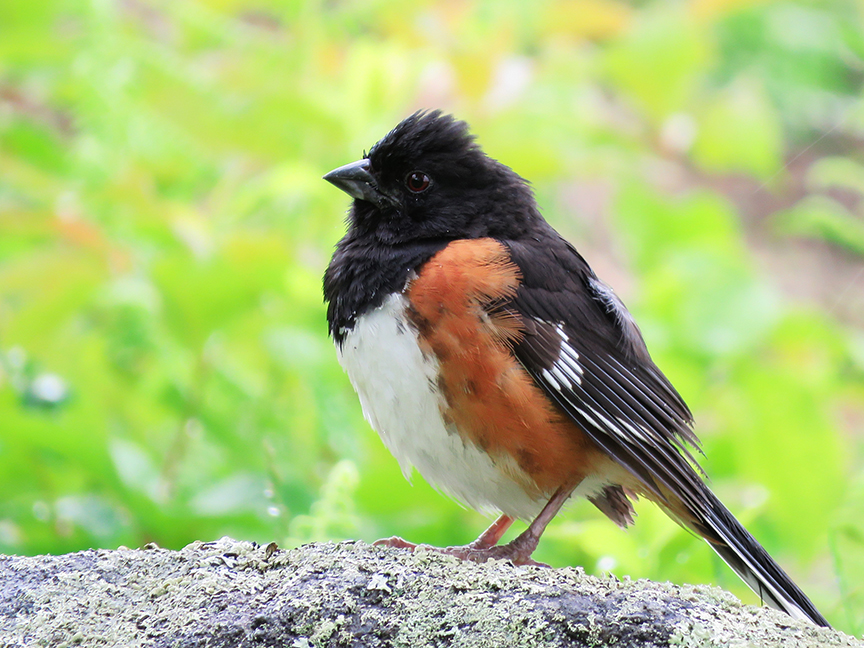 Rained a lot last night. Like three-plus inches. Even had a little drip-drip-drip roof leak over the kitchen stove. This morning the rain tapered off in time for a quick hike with dog. Didn't expect a lot of birds but was (as usual) pleasantly surprised.
Highlight was perhaps the (apparently) solitary male towhee just sitting on a stone, a little waterlogged. Love those guys.
Also love the various other species I spied (or heard). Nothing too exotic—just a day made for thrushes. One of my most favorite kinds of days.
Beech Hill List
Beginning at 9:45 a.m., I hiked the open trail—and then some.
1. Black-and-white Warbler (v)
2. Veery (v)
3. Red-eyed Vireo (v)
4. American Robin*
5. Chipping Sparrow
6. American Goldfinch**
7. American Crow*
8. Eastern Towhee
9. Song Sparrow**
10. Alder Flycatcher (v)
11. Herring Gull*
12. Savannah Sparrow
13. Tree Swallow
14. Northern Flicker (v)
15. Gray Catbird (v)
16. Field Sparrow (v)
17. Common Yellowthroat (v)
18. Yellow Warbler (v)
19. Chestnut-sided Warbler (v)
20. Eastern Phoebe*
21. Hermit Thrush (v)
22. Eastern Wood-pewee (v)
23. Ovenbird (v)
Elsewhere
24. Mourning Dove
25. Northern Cardinal
26. Blue Jay
v = Voice only
*Also elsewhere
**Voice only elsewhere
Tags: alder flycatcher, American crow, American goldfinch, American robin, black-and-white warbler, blue jay, chestnut-sided warbler, chipping sparrow, common yellowthroat, eastern phoebe, eastern towhee, eastern wood-pewee, field sparrow, gray catbird, hermit thrush, herring gull, mourning dove, northern cardinal, northern flicker, ovenbird, red-eyed vireo, savannah sparrow, song sparrow, tree swallow, veery, yellow warbler