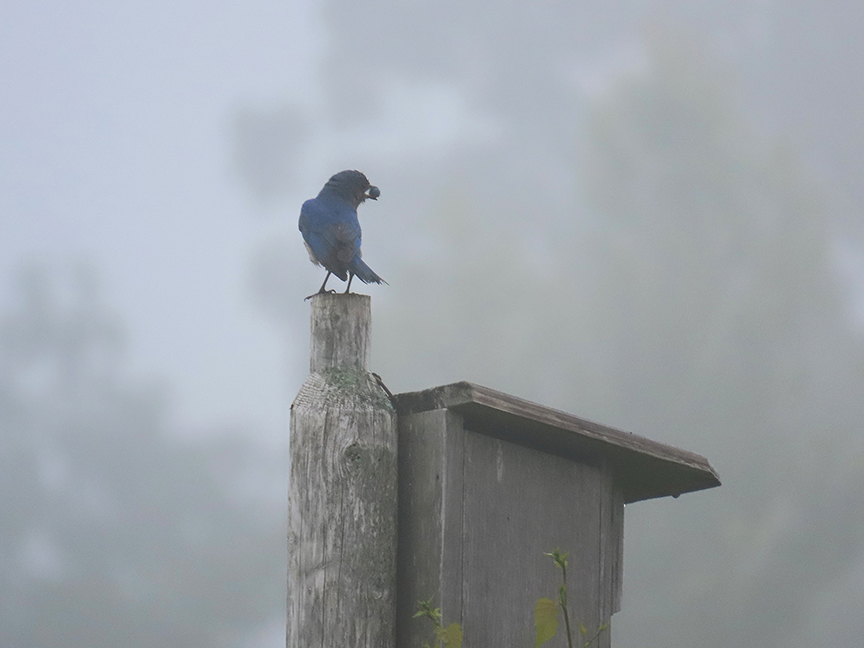 Another foggy morn for dog and me, as we headed up to the trailhead. We've had so many foggy mornings this summer already that more than once I've heard it called "unprecedented." This morning's fog happened to happen on the first day of the land trust's planned-for week-long free blueberry pick—which got canceled on account of it.
However, quite a few birds showed up despite the weather—including a bluebird whose free pick days know no such thing as cancelations.
Beech Hill List
Starting at 7:05 a.m. EST (8:05 DST), I hiked all trails.
1. Red-eyed Vireo** (v)
2. Eastern Phoebe**
3. American Goldfinch** (v)
4. Black-throated Green Warbler (v)
5. Ovenbird** (v)
6. Chestnut-sided Warbler (v)
7. Veery (v)
8. Eastern Towhee
9. Tufted Titmouse (v)
10. Black-capped Chickadee (v)
11. Blue Jay
12. Eastern Wood-pewee (v)
13. White-breasted Nuthatch (v)
14. American Crow*
15. American Robin*
16. Northern Flicker
17. Hermit Thrush
18. Hairy Woodpecker
19. Gray Catbird**
20. Common Yellowthroat
21. Song Sparrow**
22. Field Sparrow (v)
23. Cedar Waxwing
24. Black-and-white Warbler
25. Eastern Bluebird
26. Northern Cardinal (v)
27. Yellow Warbler (v)
Elsewhere
28. Mallard
29. Black-throated Blue Warbler (v)
30. Herring Gull
(v) Voice only
*Also elsewhere
**Voice only elsewhere
†First-of-year
Tags: American crow, American goldfinch, American robin, black-and-white warbler, black-capped chickadee, black-throated blue warbler, black-throated green warbler, blue jay, Cedar waxwing, chestnut-sided warbler, common yellowthroat, eastern bluebird, eastern phoebe, eastern towhee, eastern wood-pewee, field sparrow, gray catbird, hairy woodpecker, hermit thrush, herring gull, mallard, northern cardinal, northern flicker, ovenbird, red-eyed vireo, song sparrow, tufted titmouse, veery, white-breasted nuthatch, yellow warbler