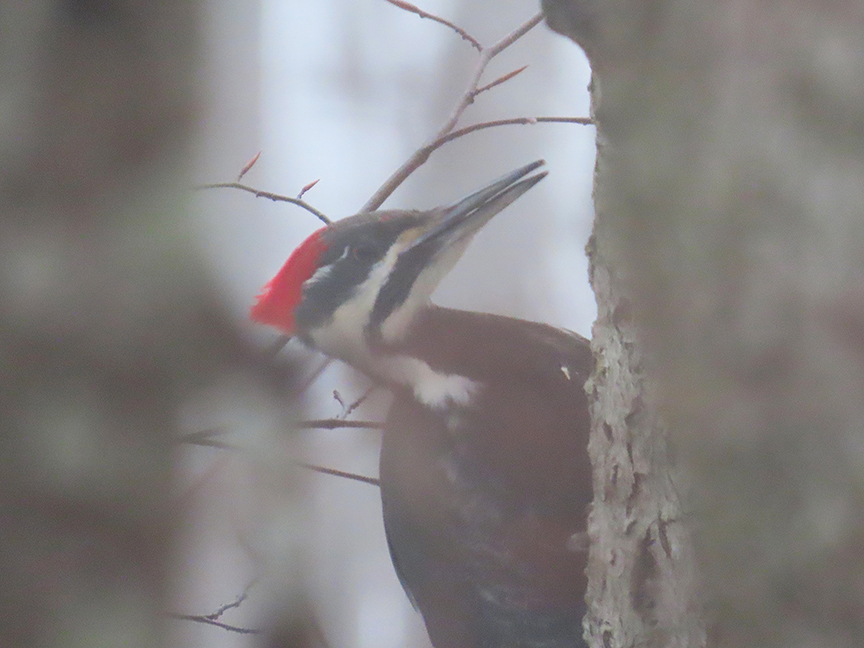 Was supposed to rain lightly today, but dog and I awoke to a foggy morning. And it remained foggy—a thick fog, a calm atmosphere—throughout our two-hour hike up the hill.
Didn't expect much in the way of photos—and wasn't sure of bird numbers, either—but was pleasantly surprised in both cases. Had thirteen species, and a few half-way-decent photos, a first-of-year kinglet, and a decent pic of a female Pileated Woodpecker.
Pretty sure we're supposed to get a little sun tomorrow. Maybe we'll even get another first-of-year bird.
Beech Hill List
Beginning at 6:58 a.m. (7:58 stupid DST), I hiked all trails.
1. American Robin
2. American Crow*
3. Black-capped Chickadee**
4. Red-bellied Woodpecker (v)
5. Blue Jay (v)
6. Herring Gull* (v)
7. Eastern Bluebird
8. Pileated Woodpecker
9. Ruby-crowned Kinglet†
10. Tufted Titmouse (v)
11. White-breasted Nuthatch (v)
12. Red-breasted Nuthatch (v)
13. Red-winged Blackbird (v)
Elsewhere
14. European Starling (v)
15. Mallard
16. Rock Pigeon
Mammals
American Red Squirrel
(v) Voice only
*Also elsewhere
**Voice only elsewhere
†First-of-year
Tags: American crow, American red squirrel, American robin, black-capped chickadee, blue jay, eastern bluebird, European starling, herring gull, mallard, pileated woodpecker, red-bellied woodpecker, red-breasted nuthatch, red-winged blackbird, rock pigeon, ruby-crowned kinglet, tufted titmouse, white-breasted nuthatch