Empids are hard. I've gotten to where I can tell them apart pretty dependably—those I know well, anyway—by their voices. But when a new species shows up and makes not a sound, what do you do?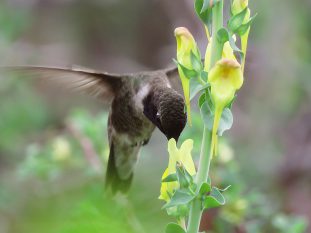 Well, I spent a long time researching Utah flycatchers in the genus Empidonax, comparing field marks with several photos I took of this morning's quiet bird. At first I thought it a Hammond's Flycatcher—but the beak seems too big and the primaries are too short. (Also, it didn't pump its tail at all.) Finally settled on Dusky Flycatcher, whose tail looks longer (because its primaries are shorter) and has a longer beak.
(Both have white eye-rings and a whitish area about the lores.)
The habitat information also played a part: the dusky tends to lurk in shady greenery (where this bird was hanging out), whereas the Hammond's will perch high.
I could be wrong, of course, but this is my educated guess. Hope to learn more about the flycatchers here over the course of the coming seasons.
Grandeur Peak Area List
Beginning at 8 a.m., I hiked several hundred feet up a mountain.
1. Black-headed Grosbeak
2. Song Sparrow** (v)
3. American Robin* (v)
4. Black-billed Magpie*
5. Lazuli Bunting
6. Blue-gray Gnatcatcher
7. Pine Siskin
8. Red-tailed Hawk
9. Black-chinned Hummingbird
10. Spotted Towhee
11. Dusky Flycatcher†‡
12. Woodhouse's Scrub-jay
13. House Finch**
14. Turkey Vulture
15. Black-capped Chickadeed (v)
16. Warbling Vireo (v)
17. Lesser Goldfinch** (v)
Elsewhere
18. House Sparrow (v)
19. California Quail
20. Mourning Dove
Mammals
None
(v) Voice only
*Also elsewhere
**Voice only elsewhere
‡First-of-year bird
†Lifer
Tags: American robin, black-billed magpie, black-capped chickadee, black-chinned hummingbird, black-headed grosbeak, blue-gray gnatcatcher, California quail, dusky flycatcher, house finch, house sparrow, lazuli bunting, lesser goldfinch, mourning dove, pine siskin, red-tailed hawk, song sparrow, spotted towhee, turkey vulture, warbling vireo, Woodhouse's scrub jay