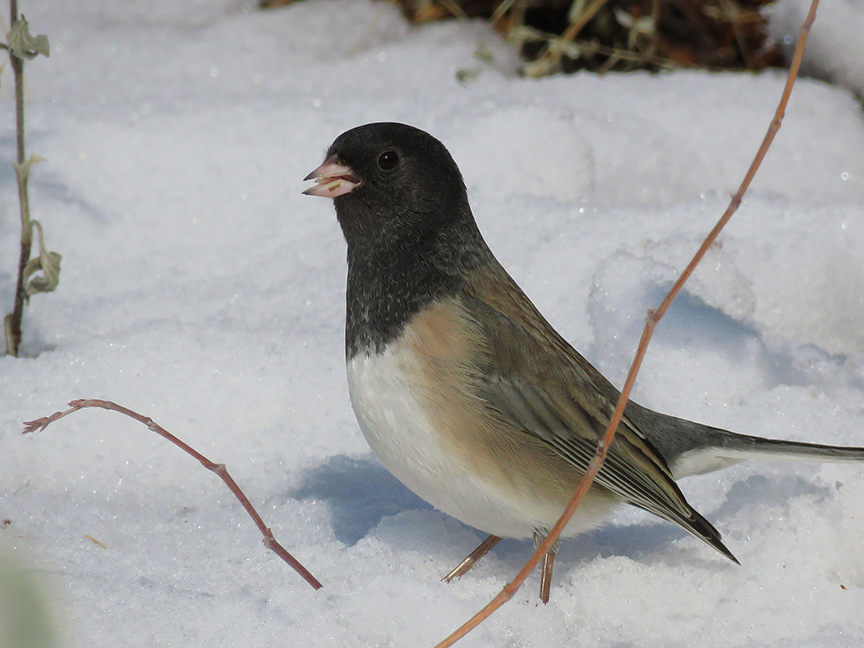 A day much like yesterday. A little nippier, though. And birdier.
Scores of birds descended on the neighborhood, scrounging old sunflower seeds and plucking miscellaneous berries. Even spotted a solitaire among them.
And on the mountain trail, I saw (or heard) nine species. Juncos all over the place. And on an opposite slope I spied an enormous mule deer buck, snoozing.
All in all, a very good day.
Grandeur Peak Area List
Beginning at 11:15 a.m., I hiked a few hundred feet up the mountain.
1. Black-billed Magpie*
2. House Finch*
3. Black-capped Chickadee*
4. American Robin* (v)
5. Northern Flicker**
6. Dark-eyed Junco*
7. Lesser Goldfinch*
8. Woodhouse's Scrub-jay* (v)
9. Hairy Woodpecker
Elsewhere
9. Townsend's Solitaire
10. House Sparrow
11. European Starling
12. Rock Pigeon
v = Voice only
*Also elsewhere
**Voice only elsewhere
Tags: American robin, black-billed magpie, black-capped chickadee, dark-eyed junco, European starling, hairy woodpecker, house finch, house sparrow, lesser goldfinch, northern flicker, rock pigeon, Townsend's solitaire, Woodhouse's scrub jay