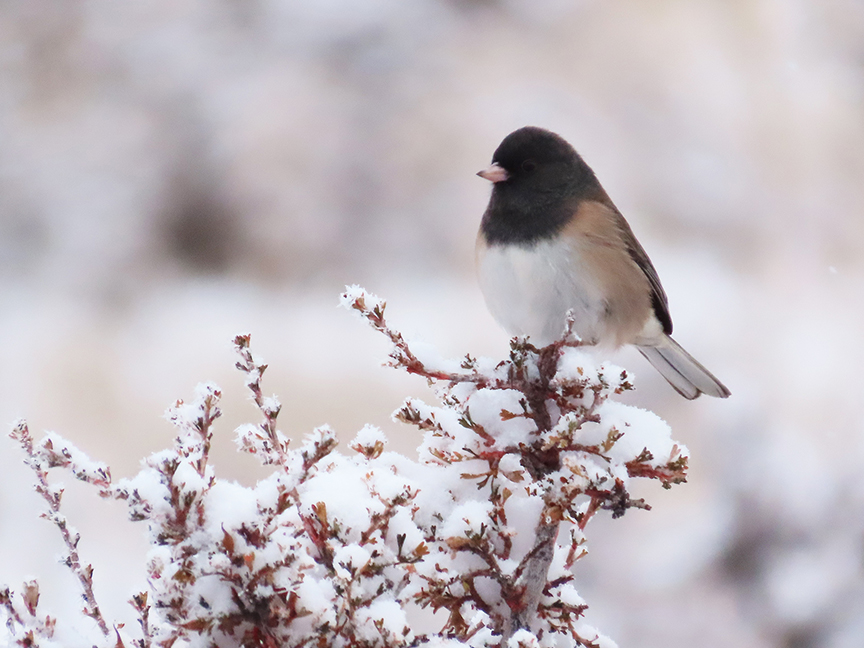 The forecast snow arrived overnight, light snow, dry snow, about an inch. Made for slightly slipper footing, but neither of us took a digger, dog and me. Really foggy at first—but things cleared up late in our hike.
Not many birds to start, but things ended up with a flurry. First, ascending the leafy canyon, I wondered if I might see a (the?) Townsend's Solitaire for a fourth straight morning, doubted it, then saw one (it?). And if that weren't enough of a nice surprise, at least thirty juncos fluttered around us for a short spell.
And at the end, the voices of three quick species—bam, bam, bam.
(Already wondering if tomorrow will bring another solitaire.)
Grandeur Peak Area List
Beginning at 8:44 a.m. (MST), I hiked several hundred feet up a mountain.
1. House Finch** (v)
2. Black-capped Chickadee**
3. Spotted Towhee**
4. Woodhouse's Scrub-jay
5. Pine Siskin (v)
6. Black-billed Magpie
7. Downy Woodpecker
8. Townsend's Solitaire
9. Dark-eyed Junco*
10. Rock Pigeon*
11. American Robin (v)
12. Northern Flicker (v)
13. Lesser Goldfinch (v)
Elsewhere
14. Eurasian Collared-dove
(v) Voice only
*Also elsewhere
**Voice only elsewhere
Tags: American robin, black-billed magpie, black-capped chickadee, dark-eyed junco, downy woodpecker, Eurasian collared dove, house finch, lesser goldfich, northern flicker, pine siskin, rock pigeon, spotted towhee, Townsend's solitaire, Woodhouse's scrub jay